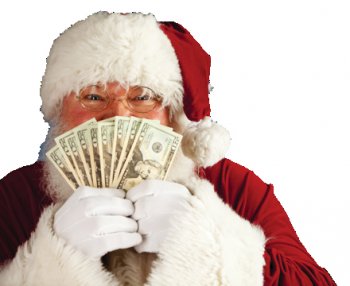 Member businesses from across Wyoming County have been invited to share three unique items that their business provides, and any deals, discounts, or promotions that are going on for Shop Small Saturday or through the holiday season.
To get the latest updates, text WYCOCHAMBER on your smartphone to the number 22828
Check out the latest below:
---
Domes Inc. Gift Shop and Spice Rack
397 Route 39 West, Arcade, NY 14009
Phone: 585-492-1931
For Shop Small Saturday, the store will be having a Spin The Wheel sale on November 25th. Spin the Wheel to see what discount you can win.

Domes Inc carries many unique gift lines including Vera Bradley, Spices, Local products (Perl's Maple Syrup, Finger Lakes Coffee, Nunda Mustard, Burning Asphalt, Honey just to name a few), a room full of Primitives and Home Decor, Dept. 56 Villages and Snowbabies, Hundreds of Candles including Yankee Candle and so much more.

Stonewall Foods will be sampling products that day also and giving out discount coupons.
---
Logel Appliance, Inc.
3909 Main Street, Strykersville, New York 14145
Phone: (585) 457-3061

STORE HOURS
Monday, Tuesday & Friday 9:30-5:00
Wednesday 9:30-3:00
Thursday 9:30-8:00
Saturday 9:00-12:00
Check out these unique items from Logel's
1. PureAir Ozone air purifiers (room or whole house units)
2. Scratch & Dent Appliances
3. Adjustable Beds

FREE goody bag to first 5 Appliance purchasers on Black Friday & Small Business Saturday! FREE $69 pillow with mattress purchases over $399!
---
Zimmer Footwear
665 Main Street Arcade NY 14009
585-492-1142

Hours:
Monday thru Friday 7:30 to 5:30
Saturday 7:30 to 1:00
Zimmer's is having a sale of 15% OFF everything including sale items, and they are open extended hours of 7:30am till 3:00PM.
3 things unique to Zimmer Footwear:
We have Carolina workboots for the whole family...starting at youth size 1
Large inventory on Peet Boot/shoe driers
New clothing line: Timberland Pro Workwear
---
Harding's Attica Furniture and Flooring
703 Creek Road, Attica, NY 14011
Phone: 585-591-2353
Fax: 585-591-2355

HOURS
Mon: 9:00 am - 5:30 pm
Tues: 9:00 am - 5:30 pm
Wed: 9:00 am - 8:00 pm
Thurs: 9:00 am - 8:00 pm
Fri: 9:00 am - 5:30 pm
Sat: 9:00 am - 4:00 pm
Sun: Closed
Harding's has a great selection including these 3 Unique items:
1. Double Sided Mattresses
2. Lift Recliners
3. Sofa's with power headrest, footrest, and Power Lumbar!
---
Creekside Convenience
4200 Route 78, (Hermitage) Bliss, NY 14024
Phone: 585-322-7234

Hours:
Monday -Wednesday 5:30AM-8:00PM
Thursday: 5:50AM-9:00PM
Friday/Saturday: 5:30AM-10:00PM
Sunday: 5:30AM-8:00PM
Three unique items you can find at Creekside Convenience are:
1. Oversized Subs
2. Delicious Pizza
3. Farm to Table Meats

Check out the website for daily specials and new products.
---
Balloons over Letchworth
HOLIDAY BLACK FRIDAY SALE!
$25 off gift certificates.
Online sale until 11/27/17.
We are the premier ride company on the east coast. Full time professional pilots. Buy online now and you can get interest free for 6 months! Don't want your spouse to see the credit card bill? Call us. We'll hold the charge until after the holidays. www.balloonsoverletchworth.com or (585) 493-3340.
---
Cathy's Crafts
11212 Alexander Road, Attica, NY 14011
Phone: 585-591-0061
Email: cafreeman@rochester.rr.com

Hours:
Wednesday 10:00AM - 5:00PM
Thursday & Friday 10:00AM-6:00PM
Closed Sunday, Monday, Tuesday.
Other times by appointment only.
Open December 1-23 10:00AM-6:00PM
Special Promotion: 15% off entire order

Unique items you can find are:
Custom Barn Quilts
Wooden Toys
Handmade, one of a kind gifts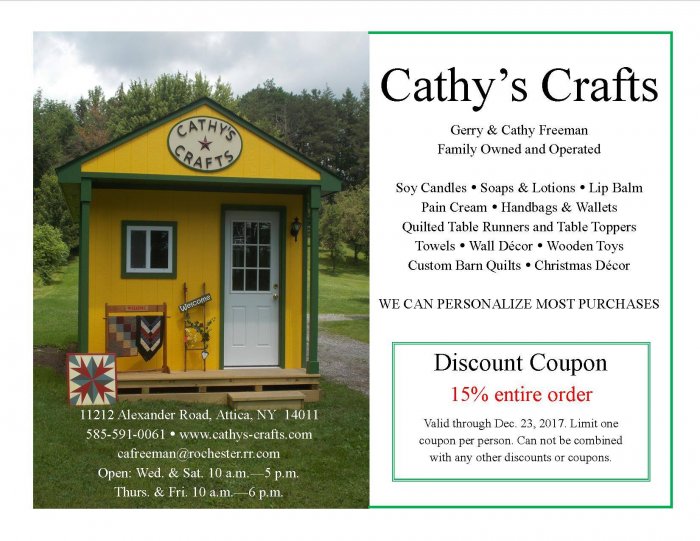 ---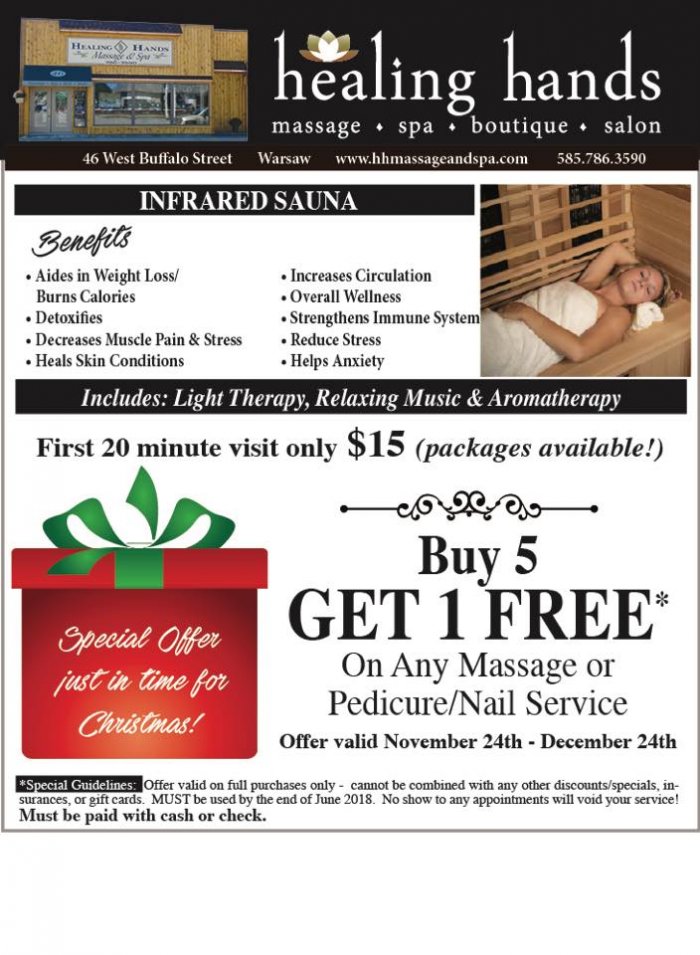 Specials for November 24-25.
Buy 5 get 1 free (any service) special guidelines apply.
Free 10 minute sauna session or $10 gift card with a $100.00 or more gift card purchase.
Special services you can find at Healing Hands:
Infrared Sauna sessions & packages
Hot Stone Massages
A Boutique shop that offers a variety of unique gifts
---
Byrncliff Golf Resort and Banquets
2357 Humphrey Road, Varysburg, NY
Phone: 585-535-7300

Visit Website: https://byrncliff.com/shop/

Various Gift Certificate opportunities are available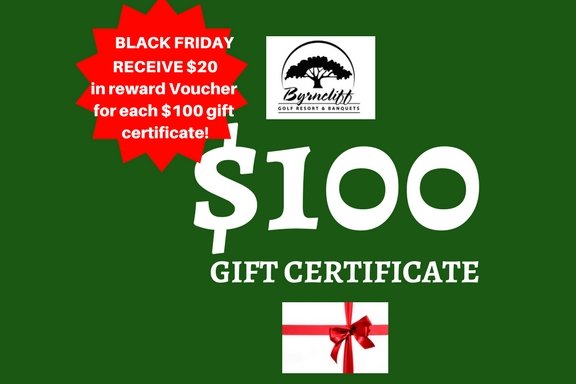 ---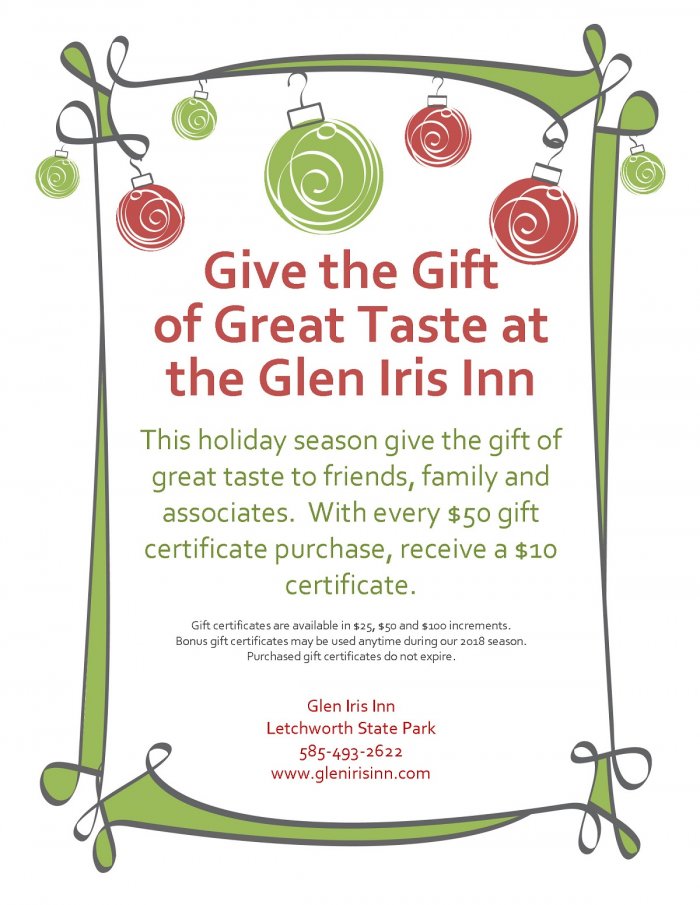 ---
Adventure Calls Outfitters
Phone: 1 (888) 270-2410
Email: aco.rafting@gmail.com
Visit Website

Gift certificates make great gifts this holiday. Visit our website to purchase a gift certificate for one our trips through the gorge at Letchworth State Park.