Wyoming Co Gift Card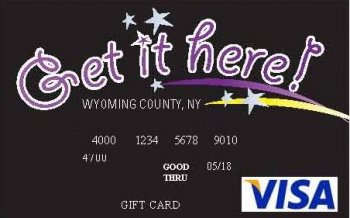 "Get it Here" the Visa Gift Card you can use anywhere in Wyoming County
Sold in various amounts from $20 - $500. You choose how much you would like to give. (plus a $4.00 activation fee per card) Call (585) 786-0307 or stop by the Chamber office in Warsaw to purchase your gift card today!
Purchasing on-line is easy. Simply click on the button below and follow the on-screen instructions.
Currently, all gift cards will be mailed via standard US Mail within 1-2 business days.
**Special Note: The Wyoming County Chamber will no longer be able to load gift cards after October 31, 2019. Cardholders will have until the earlier of card expiration or June 1, 2020, to use the funds on their cards, at which time card spending functionality will be discontinued by the processing company.