Apr 3, 2019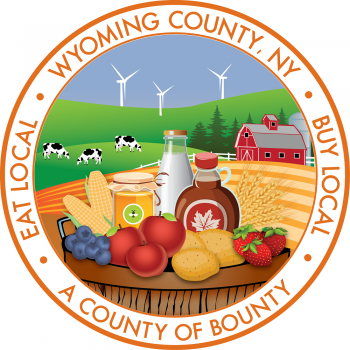 The Wyoming County Chamber and Tourism office in collaboration with the Wyoming County Cooperative Extension is pleased to announce a newly updated Eat Fresh - Buy Local grown initiative. The new program was started last fall and is designed to more effectively promote and highlight our diverse agricultural community in a digital format. The logo and brochure were unveiled at the Pride of Ag Dinner in March to a capacity audience of the agriculture and business community.
Previously published as a paper directory, the new online platform builds on tourism's existing interactive website directory, guide and map features with the new web address www.BuyWyomingCountyGrown.com. The platform now includes over 100 local growers, who produce everything from apples to zucchini, and it can be updated very quickly to add new products or services. Visitors are invited to explore the map directory and shop at our seasonal farmers' markets or buy products direct from the producers when possible.
"The number of local farms and producers that sell directly to consumers continues to grow in abundance and variety, and we are pleased to be supportive of those efforts," said Scott Gardner, Chamber President and CEO. "We invite everyone to travel through our scenic countryside, and see where our bountiful harvest grows and then take something home to enjoy."
Wyoming County growers and producers work very hard and take great pride in producing high quality items including a wide variety of maple and honey products; dairy products and artisan cheeses; fruits and vegetables; farm fresh eggs, poultry and meats. We are also proud of our local breweries, cideries, and restaurants who include local products in their dishes. Visitors and residents will also find trees, plants, flowers, farm crafts and gifts.
The website directory is always being updated. If you know of producers that are new in business and would like to be featured in the online directory, please call 585-786-2251.