Welcome and thank you for visiting. On this page you will find helpful resources and links that are updated as they are made available from Federal/State/Local sources.
Feel free to contact us if you have a link that would be helpful and not found below.
---
Vaccine Providers - Wyoming County
Wyoming County Health Department Clinic: Appointments cannot be made over the phone. Visit https://www.wyomingco.net/595/COVID-19 for more information on available clinics. Local health departments are charged with vaccinating eligible people within Phase 1B.
Hospitals and Health Centers
Pharmacies (as of 5/4/21 Please note that all of our pharmacies are doing the best they can. Remember to be patient. All websites listed will have appointments available when vaccine is available in each of the locations.
Tops Friendly Markets (Arcade): Appointments are available for those 18+. Appointments can be scheduled online for your preferred Tops Pharmacy. No walk-up appointments are available visit https://www.topsmarkets.com/Covid19Vaccinations or call 1-800-522-2522.

Rite Aid (Attica): Non-rapid no-cost drive thru testing available, must register at Rite-Aid website visit https://sr.reportsonline.com/sr/riteaid/NYS2021. Rite Aid's website will accept COVID-19 vaccine appointments for people ages 18+

Wal-Mart Pharmacy (Warsaw): Current round of vaccinations are Moderna and Johnson & Johnson. Open to 18+. Must schedule appointment at https://www.walmart.com/cp/1228302. Must be NYS resident to receive vaccine.


Sinclair Pharmacy (Warsaw): The pharmacy currently has a large quantity of vaccine allocation. The pharmacy is taking names and phone numbers for those wishing to get the vaccine. When they receive 10 names, they will set up appts for the next day. Rapid Testing is available for $75. Call 786-2330 for questions/more information. Website info can be found at https://stores.healthmart.com/sinclairpharmacy/stores.aspx


Attica Pharmacy (Attica): Taking appointments online at www.atticapharmacy.com. Site will state if appointments are available when vaccines are in stock. Currently vaccinating 18+. Rapid testing available $65. Call for more information 591-1111.


Walgreens Pharmacy (Perry): Appointments for vaccine will be available by visiting www.walgreens.com No testing available. Call for information if necessary 237-3113. Open to 18+

Cottrill's Pharmacy (Arcade): Currently by appointment only as vaccine is available. No longer taking names on waiting list. Appointments open to 18+ No testing available. Call 492-2310 for more information.


Wyoming County Family Medicine-Arcade at 492-5088, and Wyoming County Internal Medicine in Warsaw at 786-2290, have Johnson & Johnson and Moderna Vaccines available, please call to schedule an appointment.
---
COVID-19 Vaccine Information
The Finger Lakes Vaccine Hub goal is to ensure the equitable, transparent, and efficient immunization of at least 70% of the adult residents of the Finger Lakes Region. The Finger Lakes COVID-19 Vaccine Hub collaborates with health departments, health care providers and community partners in Genesee, Livingston, Monroe, Orleans, Ontario, Seneca, Wayne, Wyoming and Yates counties. The Hub also partners with Common Ground Health, the region's health research and planning organization, and with the Finger Lakes COVID-19 Vaccine Task Force, a group of 80 regional leaders that will advise the Hub to help ensure equity, transparency, and efficiency in COVID-19 immunizations efforts.
FDA fact sheets for recipients and caregivers on each vaccine are available: Pfizer, Moderna and Janssen/Johnson & Johnson
New Federal Vaccine Finder is available by visiting the vaccine.gov website.
You may also text your zip code to the number 438829. You will receive a message with vaccination sites nearby.
COVID Booster Information
As of September 24, 2021, eligible New Yorkers can receive their COVID-19 booster dose. Booster doses of the COVID-19 vaccine are free and widely available statewide for eligible New Yorkers.
Currently, booster doses are only available to those who meet the eligibility criteria AND received the Pfizer-BioNTech COVID-19 vaccine for their initial vaccine series at least six months ago.
---
PPE Availability
The Wyoming County Office of Emergency Management has a limited amount of free cloth masks, procedural masks, gloves (nitrile and latex), face shields, and hand sanitizer available for businesses to request on a first-come, first-serve basis and as supplies last. Please fill out the form here and you will be notified by email when and where the supplies will be available for pick-up.
---

New York State
New York State has created a one-stop website for information including testing info; metrics for reopening and micro-cluster strategies; Vaccination plans; business resources; info on advisory boards; protecting yourself; and other important resources for your business.
New! New York State has updated the re-opening guidance for businesses with a new website.
New York has launched the new Business Pandemic Recovery Initiative the largest and most comprehensive business recovery initiative in the State's history. Empire State Development is also making it easier for businesses to access a number of federally funded COVID-recovery programs.
---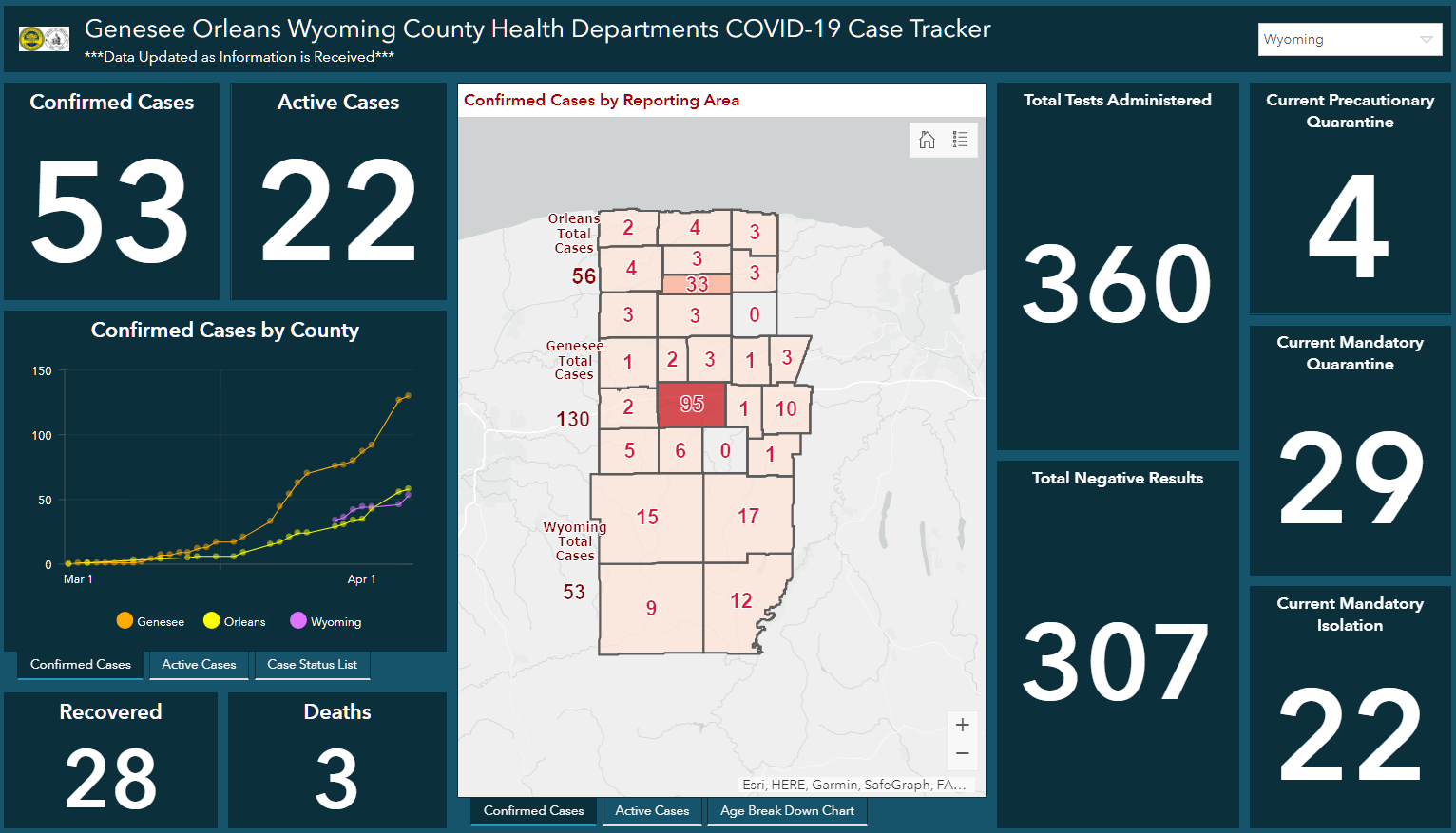 Wyoming County has transitioned to a visual representation model of positive COVID-19 cases for the entire region. These numbers are updated daily at approximately 4 pm with data provided by the Wyoming County Health Department.
---
The Batavia Daily News has created a helpful Community Support Page which continues to be updated
---