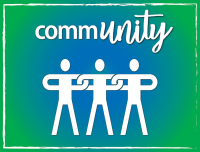 Welcome and thank you for visiting. Please find many helpful resources and links that are updated as they are made available from Federal/State/Local sources.
Feel free to contact us if you have a link that would be helpful and not found below.

---
The Wyoming County Office of Emergency Management has a limited amount of free cloth masks, procedural masks, gloves (nitrile and latex), face shields, and hand sanitizer available for businesses to request on a first-come, first-serve basis and as supplies last.
Please fill out the form here and you will be notified by email when and where the supplies will be available for pick-up.
---

Reopening New York State
New York State has created a one-stop source for information including metrics for reopening; business resources; info on advisory boards; protecting yourself; and other important resources for your business.
---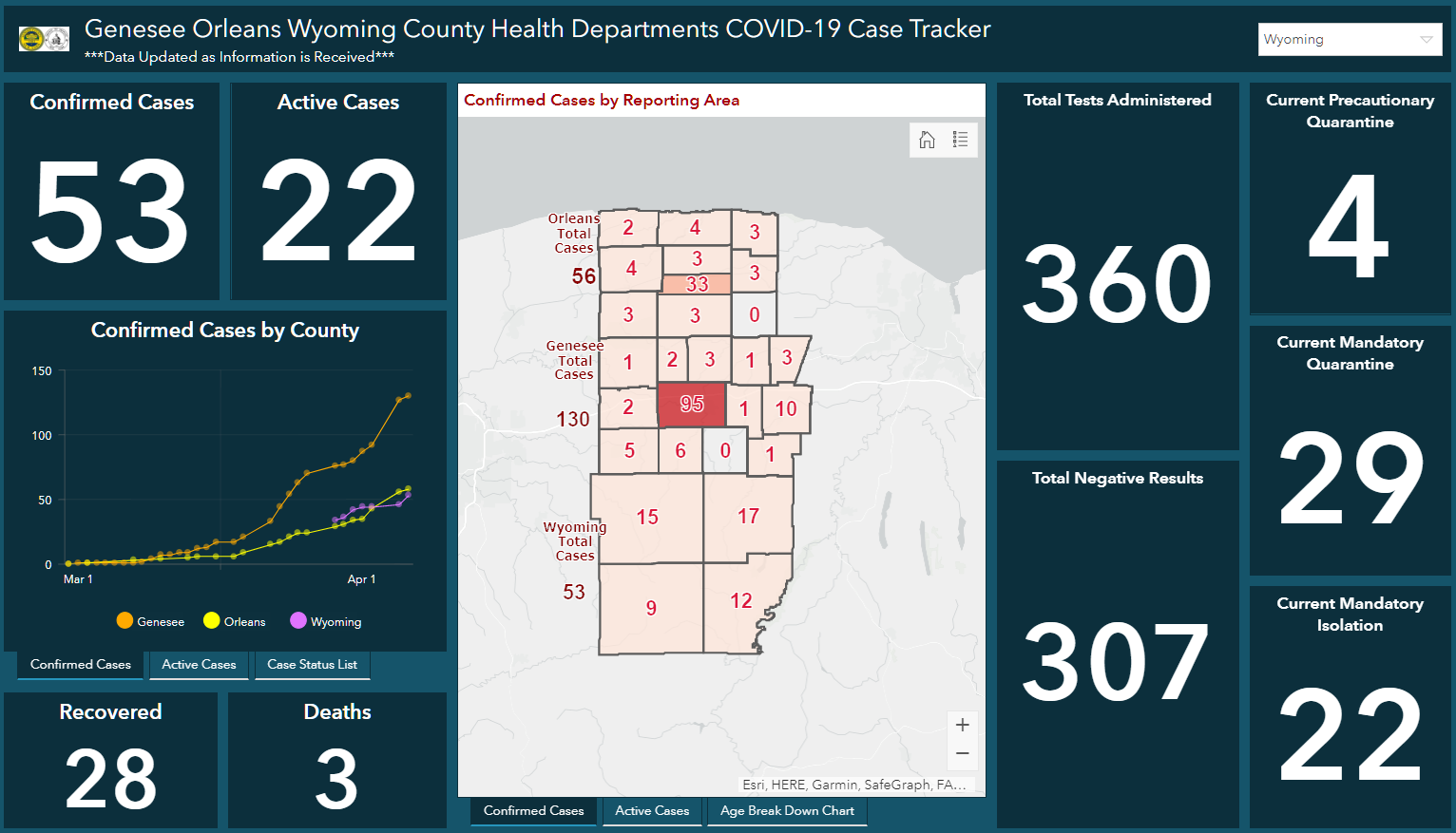 Wyoming County has transitioned to a visual representation model of positive COVID-19 cases for the entire region. These numbers are updated daily at approximately 4 pm with data provided by the Wyoming County Health Department.
---
As per the Governor on April 12, 2020, for those of you that have been deemed "essential businesses" by the state of New York, please see the Executive Order language below and the section relating to masks that must be worn by employees. Read the Executive Order
"For all essential businesses or entities, any employees who are present in the workplace shall be provided and shall wear face coverings when in direct contact with customers or members of the public. Businesses must provide, at their expense, such face coverings for their employees. This provision may be enforced by local governments or local law enforcement as if it were an order pursuant to section 12 or 12-b of the Public Health Law. This requirement shall be effective Wednesday, April 15 at 8 p.m."
In-depth guidance on face masks from the NYS Dept. of Health can be found here
---
Face Mask Providers in Wyoming County:
ACO is making a 3-ply cotton/poly face mask, that is washable. If any businesses are interested, they can email Jan Newville, at jnewville@teamaco.com or call (585) 245-4740. The masks are $6.00 with a tax-exempt certificate, otherwise $6.50.
Chaffee Chick Design in Arcade. CCD.espwebsite.com Verify with Angela Wojcik first for availability. Offering 10 percent off the prices shown.
Phone: 716.907.8113, Email: chaffeechickdesign@gmail.com
Attica Pharmacy, 5 Pack masks $9.95. Large (50 Packs) available for employers. Ear Loop Style. 2 Market St. Attica. Phone: 585-591-1111 web: atticapharmacy.com
Sinclair Pharmacy. N95 style masks available. Contact the pharmacy for supplies. 75 N. Main Street, Warsaw. Phone: 585-786-2330. Sinclair Pharmacy
JN White has the Splatterguard face shield available now (direct to consumers) on www.splatterguard.com. They are currently sold in case quantities of 50 with a one case minimum. 129 N. Center Street, Perry, NY 14530. Phone: (888) 303-1911
Montgomery Building Supplies For sanitary reasons, full boxes only. Two styles disposable one is 50/box at $1.69 each mask, KN95 mask is 50/box at $7.99 each mask. Any questions, please call the store at 786-2510. 100 Allen Street in Warsaw.
Any other businesses that have a supply of masks for sale to other essential businesses, please let us know by emailing info@wycochamber.org and we will share your information here.
---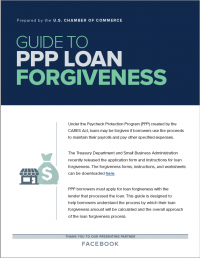 NEW SBA and Treasury Announce Simpler PPP Forgiveness for Loans of $50,000 or Less
Important: Contact your local lender to discuss their current position on the PPP Loans and their forgiveness process.
---
---
New York State Links
NYS page for all COVID-19 information: https://coronavirus.health.ny.gov/home

Businesses able/interested in supporting the pandemic response with needed supplies or products should send an email to COVID19supplies@esd.ny.gov There is a large volume of traffic currently, please be patient for a reply.
Essential businesses are exempt from the new Executive Order by Governor Cuomo to close all non-essential businesses with a 100% in-person workforce reduction. Essential service industries/functions and detailed guidance for businesses is now available online and continues to be updated regularly at https://esd.ny.gov/guidance-executive-order-2026
Essential Business FAQ: Click Here
Businesses unsure if they are included within in exempt categories but still believe they are providing essential services or functions can request a waiver from these reductions by completing this form: https://esd.ny.gov/sites/default/files/Request%20for%20Designation%20Form_0.pdf
REMINDER: If your business is part of an exempt industry/function on the essential list then you do NOT have to submit an application.
REMINDER: Even if your business is deemed essential, please take all practical steps to reduce density by allowing remote working and implementing social distancing.
REMINDER: To help keep up with the quickly changing response to the COVID-19 pandemic, below are some important resources related to the economic impacts for businesses and workers…
Empire State Development has set up a web portal and FAQ page for individuals and businesses with business-related COVID-19 issues and questions on this website with all COVID-19 info: https://esd.ny.gov/esd-covid-19-related-resources
---
NYS Department of Labor Information
New Unemployment Insurance Website
Unemployment Guidance for Self Employed Individuals
Paid Family Leave Guidance for Employers and Employees
Unemployment Insurance and Pandemic Unemployment Assistance Flowchart
Unemployment Ins and Pandemic Unemployment Assistance Need to Know
Unemployment Insurance Frequently Asked Questions
Unemployment Ins and Pandemic Unemployment Assistance Checklist
Shared Work Program An alternative to laying off employees during business downturns by allowing workers to work a reduced work schedule and collect partial unemployment insurance benefits for up to 26 weeks. Instead of cutting staff, you able to reduce the number of hours of all employees or just a certain group:


---
New York State Agency and Organizations
Governor Cuomo Press releases and executive orders
Guidance on NYS Park rules and policies
---
US Government Links
Small Business Administration Find updated information on the SBA's coronavirus response and access to the SBA Economic Injury Disaster Loan Program Portal
USDA COVID-19 Federal Rural Resource Guide - A listing of clickable links for rural areas, commercial businesses and non-profits, local governments and more.
White House Executive Dept. Information
NY State and the IRS extended tax filing deadlines to July 15. See https://home.treasury.gov/news/press-releases/sm948
---
Wyoming County Links
Wyoming County Community Resources
Wyoming County government website
Wyoming County Health Department Resources
Wyoming County Mental Health Department
For Wyoming County specific questions or referrals, please contact the Wyoming County Operations Center by email at OEM@wyomingco.net, or call (585) 786-8911.
---
Business Organizations and General Resources
New York State Business Council - The NYS Business Council lists a variety of good links and webinars.
Facebook Small Business Grants Program: Facebook has committed to offering up to 30,000 small businesses $100 million in cash grants and Facebook advertising credits. The grants will be provided to businesses in more than 30 countries. Information is limited, but sign up to get more details from the company when they're available.
Small Business Resources from Google
Complete Payroll Resources for Employers
How Small Businesses Can Prepare from NFIB
Business Continuity planning resources from Ready.Gov
New York FarmNet: Financial and Mental Health Resources for Farmers
Cornell University Workforce Development Page - Find Ag-specific resources and sample letters that can be used or modified/given to "essential" employees in case they are pulled over or detained by law enforcement.
Wyoming County Tourism Business Library
---
Business Resources & Guides on the Stimulus and US CARES Act
Commonly Asked Questions about the Coronavirus Small Business Loans - from the US Chamber
How to Get a Coronavirus Emergency Paycheck Protection Loan - from the US Chamber
Everything You Need to Know About SBA Disaster Assistance Loans - from the US Chamber
SBA Coronavirus Small Business Financial Assistance Programs Quick reference resources created by the Small Business Development Center on the CARES Act and available programs
Small Business Owner's Guide to the CARE Act NEW Information provided by Sen. Schumer's office
Small Business Stimulus Section-by-Section Summary
Stimulus Small Business "Explainer"
US Chamber's Small Business Guide & Checklist
SBA's Three-Step Process for Disaster Loans (Document)
---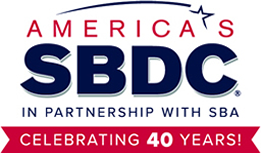 Small Business Development Center Assistance
The New York Small Business Development Center (NY SBDC) is a network of 22 campus-based centers and outreach offices across NY State. The centers provide free business advising and free and low-cost training to startups, entrepreneurs, and small business owners with goals to grow and stay competitive in NY. The NY SBDC is part of America's SBDC, the association that represents America's nationwide network of Small Business Development Centers (SBDCs). They are administered by the State University of New York and funded by the U.S. Small Business Administration, the State of New York, and host campuses.
Paul J. Morrell, Executive Director of Finance and Business Development
Director, Small Business Development Center
SUNY Geneseo, Doty Hall 119
One College Circle
Geneseo, NY 14454
Phone: (585) 245-5429
morrell@geneseo.edu
---

The SBA's Economic Injury Disaster Loan program provides small businesses with working capital loans of up to $2 million that can provide vital economic support to help your small businesses overcome the temporary loss of revenue you may be experiencing.
We have compiled a "How to Guide" and examples of all the necessary documents you will need to create your application.
---
The Batavia Daily News has created a helpful Community Support Page which continues to be updated
---