Welcome and thank you for visiting. On this page you will find helpful resources and links that are updated as they are made available from Federal/State/Local sources.
Feel free to contact us if you have a link that would be helpful and not found below.
COVID-19 Vaccine Information
New York State will distribute the COVID-19 vaccine in phases based on need and risk. New Yorkers who are more likely to be exposed to the virus, and who are more likely to become seriously ill if they get COVID-19, will be offered the vaccine first. Both the federal government and New York State have developed plans to ensure that everyone will be able to get a COVID-19 vaccine as soon as large quantities are available, at no cost no matter where they live.
Thousands of health care providers will be able to offer vaccination, including doctors' offices, retail pharmacies, hospitals, and Federally Qualified Health Centers (FQHCs) of priority groups. The State Department of Health will share additional information on where New Yorkers can get vaccinated as more vaccine doses become available. Click here for "what you need to know" about NY's Plan.
NY's phased distribution can be found here
Those eligible in the Phase 1A and 1B Priority Populations are encouraged to register online for COVID-19 vaccination clinics in Wyoming County. Check back frequently at www.wyomingco.net as more clinics are added by the Wyoming County Health Department each week, based on the supply of vaccine from New York State. It is expected that pharmacy locations and physician practices in Wyoming County will receive vaccine directly from New York State in the coming days and weeks. New York State estimates it may take up to fourteen weeks to vaccinate everyone eligible in Phases 1A and 1B. Individuals must provide proof of eligibility at the vaccination clinic (i.e. a paystub or employer issued ID tag showing they are a member of the Phase 1A or 1B Priority Population).
---
The Wyoming County Office of Emergency Management has a limited amount of free cloth masks, procedural masks, gloves (nitrile and latex), face shields, and hand sanitizer available for businesses to request on a first-come, first-serve basis and as supplies last.
Please fill out the form here and you will be notified by email when and where the supplies will be available for pick-up.
---

New York State
New York State has created a one-stop website for information including testing info; metrics for reopening and micro-cluster strategies; Vaccination plans; business resources; info on advisory boards; protecting yourself; and other important resources for your business.
---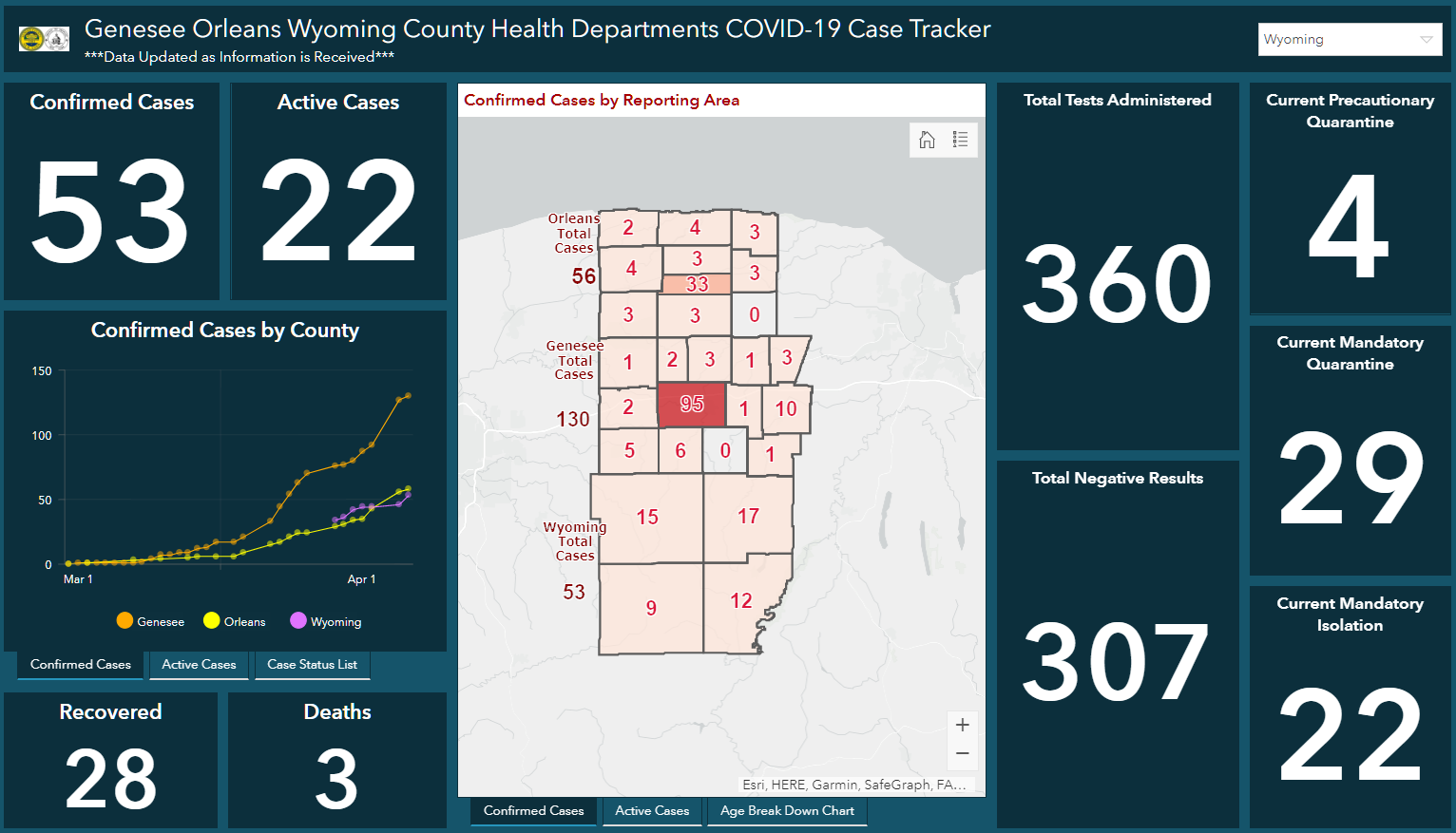 Wyoming County has transitioned to a visual representation model of positive COVID-19 cases for the entire region. These numbers are updated daily at approximately 4 pm with data provided by the Wyoming County Health Department.
---
---
The Batavia Daily News has created a helpful Community Support Page which continues to be updated
---