---
Re-Opening New York
The Finger Lakes region (Wyoming County) is among those that the governor said on May 11, has met criteria to reopen. The governor also announced all retail businesses will be able to perform curbside pickup and drop-off going forward. He added essential retail businesses will continue to operate under their current protocols. Meanwhile, the state says it will allow low-risk professions such as landscaping, low-risk outdoor recreational activities and drive-in movie theaters to reopen.
NYS on PAUSE will continue through May 28 for regions that have not started reopening; a region can enter Phase One of reopening as soon as it meets its required metrics.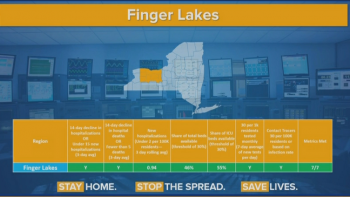 ---
NYS issues four-phased approach to reopening
The state outlined which industries and businesses can open in each phase of the state's four-phase re-opening plan. Businesses considered "more essential" with inherent low risks of infection in the workplace and to customers will be prioritized, followed by other businesses considered "less essential" or those that present a higher risk of infection spread. Regions must not open attractions or businesses that would draw a large number of visitors from outside the local area.
New York's Phased Re-opening
Phase One (May 15): Construction/Manufacturing and wholesale supply chain/Select retail using curbside pickup only/Agriculture, Forestry, Fishing & Hunting
Phase Two: Professional services/Finance and insurance/Retail/Administrative support/Real estate and rental leasing
Phase Three: Restaurants and foodservice/Hotels and accommodations
Phase Four: Arts, entertainment and recreation/Education
Essential Businesses, including any for-profit or non-profit, regardless of the nature of the service, the function they perform, or its corporate or entity structure, are not subject to the in-person restriction. Essential Businesses must continue to comply with the guidance and directives for maintaining a clean and safe work environment issued by the Department of Health (DOH) and every business, even if essential, is strongly urged to maintain social distancing measures to the extent possible.
Learn More on Essential Business here (Information updated frequently)
The Governor also outlined new safety precautions that each business must put in place upon re-opening to help lower the risk of spreading the virus. Businesses will be required to:
• Adjust workplace hours and shift design as necessary to reduce density in the workplace;
• Enact social distancing protocols;
• Restrict non-essential travel for employees;
• Require all employees and customers to wear masks if in frequent contact with others;
• Implement strict cleaning and sanitation standards;
• Enact a continuous health screening process for individuals to enter the workplace;
• Continue tracing, tracking and reporting of cases; and
• Develop liability processes.
Businesses/Employers must have a re-opening plan, there are many sample plans available below (CDC/OSHA and industry specific) and on the NY Forward website. Consider the above information when crafting and drafting your business' plan to re-open. Currently, you do not need to file your plan with any federal, state, region, county or local agency. Your plan needs to be in writing and made available should any state or local health agency inspect your facility.
Learn more at the NYS Regional Re-opening website
NY Forward - New York has provided guidance, sample plans, and a self-certification process for businesses at the NY Forward Website.
NY Forward Reopening Guide here
COVID Testing Guidance - Testing for COVID-19 shall be authorized by a health care provider for individuals who would return to the workplace in Phase One. This is currently voluntary and not a requirement.

New Wyoming County COVID Testing
Health Mart Pharmacies are participating as community collection sites in partnership with eTrueNorth, a contractor of the U.S. Department of Health and Human Services to provide access to COVID-19 diagnostic tests. Testing services for patients meeting eligibility requirements are now available. Tests will be provided at no cost to eligible patients at this time and are available to residents of Wyoming County, beginning Tuesday, May 19, 2020.

How it works:
1. Check to see if you're eligible to take the test by visiting https://doineedacovid19test.com/ to answer a few simple questions.
2. Schedule an appointment. If you're eligible for testing, find a location near you to schedule an appointment.
3. Bring your voucher and ID on the day of your test. If you receive an appointment, you must print and bring your test voucher with you on the day of your test, along with proof of identity.
4. What to expect on the day of the test. Stay in your car. Authorized personnel on-site will provide you with a self-administered test kit and instructions to perform the test. They will also monitor you to make sure you're performing the test correctly.
5. Notification of test results. You will be emailed a link to view your results within 3–5 business days.
---
Re-Start Wyoming County: Planning for Recovery
The Covid-19 Pandemic of March 2020, led to a response that was unforeseen, and for businesses, largely unplanned. The closing of non-essential businesses coupled with shelter in place orders for most citizens has created a crisis environment for our economic well-being.
You must decide now how your business will be able to survive this crisis and remain in business. This is different than a simple business continuity plan, as the factors that have caused this crisis were out of your control. In this way, the effect that this has had on our business community is very similar to communities coping with large scale natural disasters! Many businesses in those communities were able to bounce back and recover as a result of good self-evaluation and planning.
Read the quick guide here

---
---
Re-Start Wyoming Loan Program
Recognizing the impact of the COVID-19 pandemic's impact on our small business community, the Wyoming County Business Center Board of Directors established the Re-Start Wyoming Loan Program. The purpose of the loan program is to provide assistance to small businesses in Wyoming County, New York that have been impacted by the COVID-19 health crisis and to help "re-start" their businesses as governmental orders restricting business operations in Wyoming County are eased or lifted.
Funds may be used to:
1. Provide eligible borrowers with funding to modify current business operations to adapt to governmental orders imposing restrictions on business operations.
2. Provide eligible borrowers funding to assist in the re-opening of their businesses within 30 days once governmental orders have been lifted.
3. Provide eligible borrowers with funds for payroll support, rent assistance, payment of utilities, replenishment of inventory, employee health care and accounts payable.
Applications will be accepted from May 8 until July 31, 2020 and reviewed in the order received. They will continue to be processed until July 31, 2020 or until the funds are depleted. Read the press release here
Download the application here
---
US Chamber's "Resilience in a Box" Resources
The US Chamber has created the "Resilience in a Box" web resource based on best practices and designed to educate newcomers on business resilience. Small businesses are both highly vulnerable and can be without adequate resources to focus on preparedness actions. These resources will guide companies toward addressing preparedness issues while building in flexibility to handle potential business interruptions.
Ready to Reopen: A Playbook for Your Small Business - An extensive article from the US Chamber of Commerce.
---
Wyoming County Tourism's Resource Library
You will find creative & informative resources for your business to assist you during the COVID crisis. They include marketing tools, support & assistance being offered, as well as links to webinars and other resources to help you navigate these challenging times.