COVID Business Resources
---

The US Small Business Administration has a number of programs designed to assist businesses in recovering from financial losses due to the COVID-19 pandemic.
Frequently updated information can be found here
---
Re-Start Wyoming County: Planning for Recovery
The Covid-19 Pandemic led to a response that was unforeseen, and for businesses, largely unplanned. The closing of non-essential businesses coupled with shelter in place orders for most citizens created a crisis environment for our economic well-being. It is critical for business owners to plan ahead to be able to survive this crisis and remain viable into the future. This is different than a simple business continuity planning, as the factors that have caused this crisis were out of your control. In this way, the effect on our business community is very similar to communities coping with large scale natural disasters. Many businesses in those communities were able to bounce back and recover as a result of good self-evaluation and planning.
Read the quick guide here
---
US Chamber's Free "Resilience in a Box" Resources
The US Chamber has created the "Resilience in a Box" web resource based on best practices and designed to educate newcomers on business resilience. Small businesses are both highly vulnerable and can be without adequate resources to focus on preparedness actions. These resources will guide companies toward addressing preparedness issues while building in flexibility to handle potential business interruptions. Learn More
Ready to Reopen: A Playbook for Your Small Business - An extensive article from the US Chamber of Commerce.
---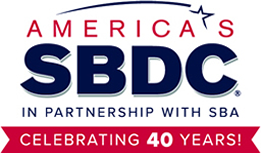 Small Business Development Center Assistance
The New York Small Business Development Center (NY SBDC) is a network of 22 campus-based centers and outreach offices across NY State. The centers provide free business advising and free and low-cost training to startups, entrepreneurs, and small business owners with goals to grow and stay competitive in NY. The NY SBDC is part of America's SBDC, the association that represents America's nationwide network of Small Business Development Centers (SBDCs). They are administered by the State University of New York and funded by the U.S. Small Business Administration, the State of New York, and host campuses.
Paul J. Morrell, Executive Director of Finance and Business Development
Director, Small Business Development Center
SUNY Geneseo, Doty Hall 119
One College Circle
Geneseo, NY 14454
Phone: (585) 245-5429
morrell@geneseo.edu
---