Apr 3, 2019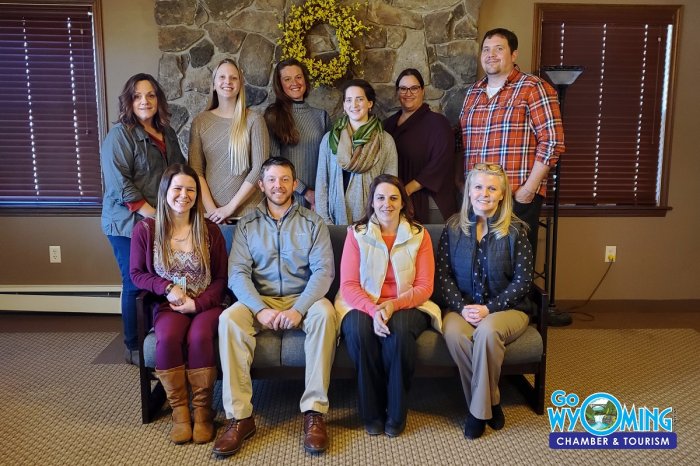 This year marks Leadership Wyoming's 12th class and a new journey for a group of individuals who recently spent two days at the opening retreat held March 25-26, 2019, at Asbury Retreat and Conference Center on Silver Lake.
Now in its 12th year, Leadership Wyoming aims to change the way graduates think and act in Wyoming County, their professional lives and in the community. Through the ten month program, participants will examine and experience major aspects of life, culture, and education; agriculture, business and industry; governmental systems; and community resources, and volunteerism in Wyoming County.
The class participants, who will take part in the ten month long program, are from across Wyoming County and represent diverse personal and employment backgrounds. They are: Mary Gibson from Java Farm Supply; Amanda Myers from Partners for Prevention; Kari Sears, Community Action for Wyoming County; Brian Eddy from Byrncliff Golf Resorts and Banquets; Melissa Wolcott from Morton Salt; Sarah Carlson from Cornell Cooperative Extension of Wyoming County; Kim Harloff and Julie Marshall from Pioneer Credit Recovery/Navient; Brenda Kelly from Tackbary's Trophies; and Jesse James Guldenschuh from the East Hill Inn.
"These are always interesting people that come together to take part in the Leadership Wyoming program. They will certainly rise to the challenges ahead as we begin this process. It is always exciting to listen to their discussion right from the beginning, and to see how they develop and begin to collaborate with one another," stated Chamber Leadership Wyoming Program Coordinator, Kelly Ashcraft.
Through participation with guest speakers, panel discussions, site tours, leadership and strategic training, public presentations, as well as, group problem solving and team building exercises, the program will develop leaders who have a new perspective and a greater sense of purpose in their personal lives, professional endeavors, and greater community. A new, class identified, developed and solved community impact project has been added to the program this year.
The program begins in March with the two-day retreat focusing on team building and personal discovery. Each person is given the Meyers-Brigg profile assessment and then led through a personality discovery process where they begin to understand themselves as individuals and how they work within a group dynamic. Then on day two, Sandy Pirdy, from Living Your Unlimited Potential, based in Arcade, NY, facilitated a discovery session and SWOT styled analysis of Wyoming County and how the group perceives the areas where they live and work. They also heard from past graduates who recount their experiences and offer advice on what to expect.
The next nine months will include exploring the offerings of Main Streets and downtown centers in Wyoming County; taking tours of local manufacturers; talking to the County's economic developers; an up close and personal tour of one of Wyoming County's most famous landmarks, Attica Correctional Facility; checking out the latest technology being employed on local farms; and taking time to be tourists - exploring all that Wyoming County has to offer. This year's class will be exploring different businesses from previous years and taking part in exciting new leadership development activities.
The class will also be required to sit-in on a local government meeting and attend a Wyoming County Board of Supervisors meeting. The class will learn about the Courts system during Government and Criminal Justice Day, and will see our legislative body in action. "It is important to see our County government at work. We all know that these are our elected officials, but many have never seen them in action," Ashcraft said.
"Our purpose is to create a Leadership Wyoming program that offers a transformational experience for the participants. We seek individuals from all walks of life who want to develop new skill sets and learn more about Wyoming County," said Wyoming County Chamber CEO, Scott Gardner. "Leadership Wyoming will educate, inform, and reshape the participants thinking on where they live, and how they can involve themselves in the future of our county. The mission is to create leaders who will possess a strong sense of ownership, trustworthiness, responsibility, and commitment to improving themselves, their businesses, and their community."
Applications are no longer being accepted for 2019, however, interested parties can call the Chamber office at 585-786-0307 or email kelly@wycochamber.org to request more information for next year's class.