Aug 9, 2007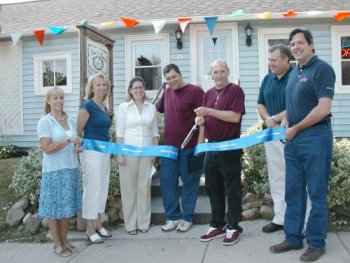 Arnie and Eddie's Cafe celebrated its grand opening on Tuesday, July 31, 2007 with a Wyoming County Chamber of Commerce Ribbon Cutting Ceremony.
Located at 16 East Perry Ave. in Silver Springs, Arnie and Eddies Cafe is open for business Tuesday - Sunday 6:00am - 8:00pm and open until 9:00pm on Fridays and closed on Mondays. The cafe officially opened for business on July 5th.
Arnie and Eddie's Cafe serves a wide variety of your basic diner food, with daily dinner specials. According to co-owner and chef Arnie Ward, since moving the cafe from its original location in Castile to Silver Springs, business had nearly tripled. "We were doing 140 fish fries on Friday's before and now we're up to 300," stated Arnie. In describing the restaurant, Arnie said, "It's just home cooking at its best. With all homemade desserts!"
"The Chamber is always pleased to see a new restaurant in the County," stated Chamber Executive Director, James Pierce.