Jan 29, 2008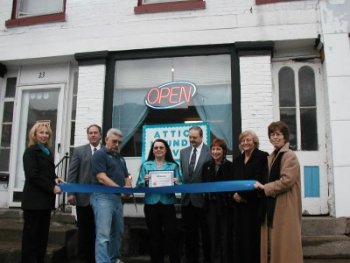 "After working all day, making dinner, doing dishes and driving car pools, etc . . . there's just enough energy to pass out! So let us take away the burden of your laundry chores." This is printed on the back of the business cards of Attica's newest business - Attica Laundry Service.
Jane Krawczyk has found a niche market to fill in Attica with this unique service business. You drop off your laundry and it will be washed, dried and folded and waiting for you to just pick up. The store is open Saturdays 9:30am - 4:30pm, Tuesdays, Thursdays and Fridays 6:00am - 6:00pm and Mondays 6:00am - Midnight. "I decided to open early and close at Midnight on Mondays to accommodate the three different shifts from the correctional facility," stated Ms. Krawczyk. "Folks can drop off their laundry on the way to work and pick it up at the end of their shift."
"I see the business as providing a valuable service for the community," continued Krawczyk. "There are people that either don't like to do laundry or are unable to do their own laundry and we're able to fill that need."
Jane is retired and had been kicking around ideas for opening her own business. And when a storefront opened at 23 Market St this dream became possible.
"At the Chamber, we welcome the opportunity to work with new businesses, especially those that open in downtown districts. Attica Laundry Service, located at 23 Market St. officially opens for business January 14th and the Wyoming County Chamber of Commerce is pleased to be able to celebrate the grand opening with the Jane and we wish her much success,""stated Chamber Executive Director James Pierce.