Sep 25, 2007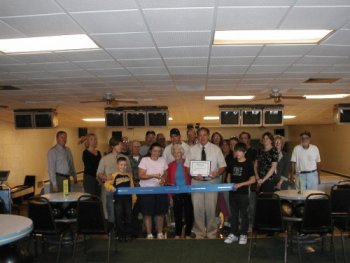 The Lanes are Back in Bennington
After many years Bennington Lanes is back. Once again the Bennington community has a place to gather and enjoy an evening of dining and bowling. Under new ownership, major renovations have taken place over six months including completely installing new bowling lanes.
Owners Billie Jo Frost and her husband Bob put many long hours into the restoration of the building and the lanes but they also conveyed that they did not do this alone. According to Billie Jo, "There were so many people who helped bring this place back. And we feel the community has welcomed us with open arms. We also want to thank our family and kids for all their help."
There are eight lanes with league bowling everyday except Sundays and opening bowling all day Sundays and everyday until 6:30pm and then after 9:30pm. Call 591-2314 to confirm an open lane.
There is also a full service restaurant and bar attached to the Lanes. The restaurant serves everything from pizza and subs to Friday night fish fry and has seating for up to 180 people. According to Billie Jo, since officially opening the restaurant about a year ago they have hosted numerous weddings, birthday parties and anniversaries.
Chamber Executive Director Jim Pierce stated, "The Chamber is delighted to see new life being pumped into a vacant building and provide recreational activities and food for the whole family."
The Wyoming County Chamber of Commerce offers Ribbon Cutting ceremonies to new businesses in the county, as well as for Chamber members that have recently undergone a renovation or expansion. Please contact the Chamber office at 585-237-0230 if interested in arranging a Ribbon Cutting.
The Wyoming County Chamber of Commerce is a nonprofit business membership organization with a mission to promote and encourage economic development in Wyoming County, New York. Serving the needs of existing businesses and attracting new businesses and industries is the core of the Chamber's economic development program. For more information or to become a member please call 585-237-0230 or visit the website at http://www.wycochamber.org.