Aug 2, 2019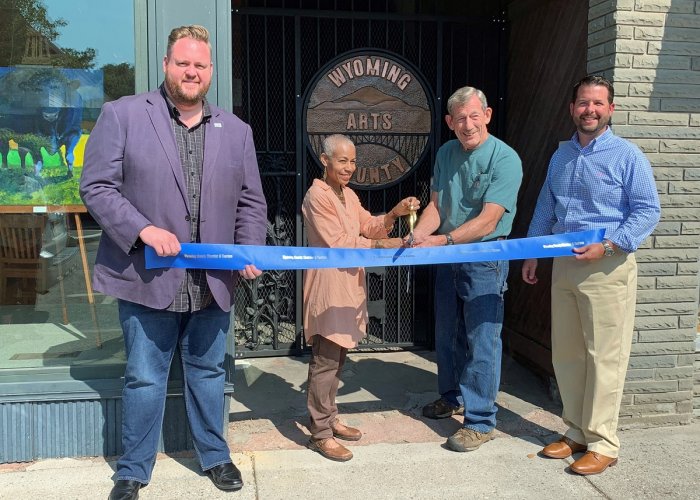 Published in the Batavia Daily News
By Matt Surtel
PERRY — It goes without saying that gates are meant to be functional.
But if you're the Arts Council for Wyoming County, you'd like to have some artwork and beauty involved too. That's why the organization turned to metalworker and artist Reginald Page of Groveland when it was time for a new steel gate adjacent to its gallery at 31 South Main St. Not only does the gate protect the safety of people in the surrounding buildings — it's also an artistic creation with features reflecting aspects of Wyoming County life.
"This has been a work in progress for probably seven years now, that we've been wanting to have a gate here," said Executive Director Jacqueline Hoyt of the ACWC. The ACWC has experienced problems over the years a long set of stairs leading from the outside sidewalk to upstairs at the organization and surrounding buildings. Young people would ride bicycles down the stairs, and people sometimes went upstairs to drink or smoke. Hoyt said birds were also a huge problem, and the location served as a funnel for garbage.
The gate now prevents unauthorized visitors from gaining access.
"We're hoping the gate will help us solve some of those battles," Hoyt said. "The nice thing about this is in the event of the emergency, people coming from both building upstairs can run right out. It's locked on the outside but it opens from the inside," she said."
But function wasn't the only priority, which was where Page — an ACWC member — stepped in. The gate is nearly 11 feet high, with a copper centerpiece depicting the Genesee Arch Bridge at Letchworth State Park.
"The reason for that is the arts are like a bridge that pulls the whole community together," Page said. "It was obvious the other night when we had a concert here that there were people from all walks of life that were in there, and everybody enjoyed it as much as the other one. "I think the arts do that, whether it's a concert on the piano, or the photographs and paintings, or the clay pieces that they've brought here," he continued. "Everybody enjoys them and I don't want to say this is just an art-happy town — but they really seem to enjoy the arts, and I think that's a real blessing. Especially to have the Arts Council gallery right here in Perry, which makes it even more special," he said.
The gate's also decorated with metal cows and cornstalks based on ornamental castings from an 1800s New Orleans mansion.
"I used industrial-type fasteners to put it all together rather than weld it together," Page said. "Because there's a lot of industry in this county too, that's really important. It's kind of a representation of that."
Page said the gate took about two months to complete. He said he'll add some additional screening up top to further keep birds out. The ultimate result mixes the very practical with the artistic.
"I had no idea what his vision for this was," Hoyt said. "I was totally blown away on Tuesday morning when he came to install it ... It's so fitting with our 'Our Farms, Our Families' project. It's a win-win. It's definitely in harmony with what we're trying to project."
Original story link: Click here