Aug 7, 2017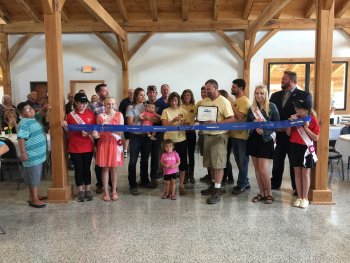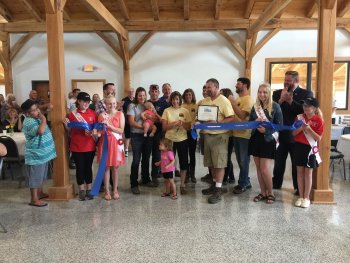 (PERRY, NY) On Sunday, August 6, 2017, the Wyoming County Chamber and Tourism office was pleased to host a ribbon cutting ceremony at East Hill Creamery, located at 346 South Main Street in Perry, (Castile township) to officially celebrate the business opening with owners Gary and Betty Burley, family, friends, and over 200 members of the community who visited throughout the afternoon open house.
"What a great day it is for East Hill Creamery, Wyoming County, and our business community," said Wyoming County Chamber of Commerce president Scott Gardner. "We are so fortunate to have a great business that is sourcing local dairy, producing world class cheese, and providing jobs. Congratulations to Gary and Betty Burley and thank you for making the investment here in Wyoming County."
Gary and Betty Burley also introduced their family and employees during the ceremony, and gave an emotional thank you to everyone gathered for the strong support their business has received since opening. Several local restaurants hosted food stations including the Hole in the Wall; Glen Iris Inn; Wendy's Pantry; and Suzea's Gluten Free Bakery and Café providing food made with East Hill Creamery cheeses. The Wyoming County Dairy Princess, Kim Evans, was also on hand with members of her royal court including Dairy Princess alternate Danielle Herrick, and Dairy Ambassadors Abby Schreiber and Brenda Martin. Wyoming County IDA Executive Director Jim Pierce also participated in the ceremony and congratulated the Burley's on the project.
Regular business hours are Friday 10 am- 4 pm; Saturday 10 am- 6 pm; and Sunday 10 am - 4 pm. More information on East Hill Creamery can be found by calling 585-237-3622 or at the website www.easthillcreamery.com.
Background:
Gary & Betty Burley began farming in 1981 with a small herd of 18 cows on a 100 acre farm on the East Hill (Route 20A) in Warsaw, NY. Today East Hill Farms milks 700 cows in a rotational grazing system. They decided to pursue a longtime dream to share with the community by producing a value added product and began construction of a state of the art cheese plant in the Spring of 2015. The Burley's researched different types of cheeses and chose to make a cheese that will emphasize the flavors in their milk derived from the grasses, herbs and flowers that their cows eat in the pasture. All of the milk comes from East Hill Farm located in Warsaw, NY.
All of the cheeses at East Hill Creamery are produced with raw milk, meaning the milk is not pasteurized before it is made into cheese. The cheese goes through a 60-day aging process that naturally pasteurizes them. The French Alpine style of cheeses allows the Burley's to exhibit the high quality, grass fed milk that they use to produce East Hill Creamery cheese.
East Hill Creamery offers a wide array of products including their signature cheeses; cheese baskets and trays; East Hill Creamery merchandise; grass-fed butter and crème fraiche from Kriemhild Dairy Products; fresh bread and baked goods from the Hole in the Wall Restaurant on Saturdays; olive oils and balsamic vinegars from Cosimano and Ferrari; fresh pasta from Bozza Pasta; truffles and barks from Dolce Bella Artisan Chocolates; local honey from Log Cabin Acres and Castile Cider Mill; beef sticks from Wilson Beef Farm; local eggs and local maple syrup.
The Wyoming County Chamber & Tourism is the leading membership organization for local and regional growth, advocacy, and connection for Wyoming County's business community. The Chamber & Tourism's mission is to serve the members and community; promote and grow the area's economic and tourism assets; and work collaboratively to create an environment that leads to the success and economic prosperity of Wyoming County. For more information, or to become a member of the Chamber of Commerce, please call 585-786-0307 or visit the website at wycochamber.org or gowyomingcountyny.com.
-30-