Sep 28, 2020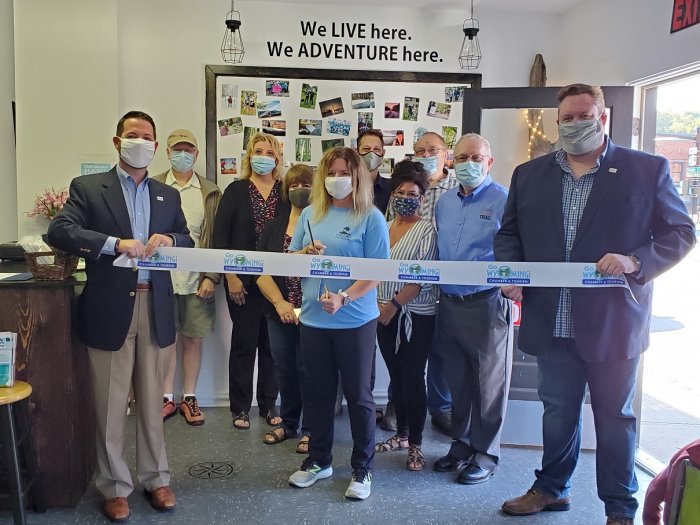 Every successful entrepreneur knows that the "big idea" is only as good as the ability to execute it. On Saturday, September 26, 2020, Brianne Blaszak, owner of Endlessly Outdoors Company, officially celebrated her "big idea" with a ribbon-cutting at 8 Covington Street in Perry, NY. She was joined by officials from the Wyoming County Chamber & Tourism office, the Wyoming County Business Center, local officials, friends, and supporters.
Brianne's journey took off in the spring of 2018 when she, with the financial support of Community Action for Wyoming County's Employment and Training Department, enrolled in the Wyoming County Business Center's FastTrac Program. Through the FastTrac Program, Brianne refined her great ideas, created a solid business plan, and then set out to open a location and build her business.
Endlessly Outdoors Company provides the education, products, equipment, program, events, inspiration and confidence that inspires the community to reconnect with nature throughout all four seasons. The company takes advantage of Western New York's parks, trails, lakes and communities that are unique to the area. Endlessly Outdoors Company specialists have 15+ years of outdoor adventure experience, including teaching people of all ages and abilities to achieve their personal fitness and/or recreational goals in the great outdoors. Brianne will also be partnering with many local businesses and organizations, including Wolfpack Multisport, who will be directing cycling and triathlon races and activities from Endlessly Outdoor Company's store.
Brianne was born and raised in Wyoming County, which initiated her passion for outdoor adventure and recreation. She obtained her Bachelor's degree in Physical Education then her Master's degree in Physical education with an emphasis on adapted physical education and outdoor adventure - recreation education. Over the past 19 years, she has taught individuals of all ages and abilities the importance of participating in lifelong physical activity along with assisting them to achieve their personal fitness, recreation and/or health goals. It was her love for Wyoming County's outdoor recreation opportunities that lead her to envisioning an outdoor adventure recreation company where she could provide her community with not just her knowledge and experience but also the programs, equipment, events and more. Brianne has been recognized by her peers with numerous awards, including the New York State Association of Health, Physical Education, Recreation and Dance Adapted PE Amazing Person, along with being chosen the Buffalo Bills Touchdown Teacher of the Year over 750 other WNY educators.
"As I began to envision making my dream of Endlessly Outdoors Company a reality, I soon realized how beneficial it would be to take Wyoming County's FastTrac program. Upon graduation, I had the knowledge, resources and plan to execute my dream. While I have collaborated with Wyoming County Tourism on numerous projects since graduation, it did take me just over two years to arrive at this grand opening day but I could not be more proud and excited to have Endlessly Outdoors Company located in Wyoming County," said Brianne Blaszak, owner of Endlessly Outdoors Company. "Through this location in Perry, I will be able to provide the community - my neighbors - and our tourists the products, programs, equipment and events in collaboration with other local businesses that I feel have been missing in this area for some time. And while I say it often, this company and space are truly for this community to come and reconnect with each other one adventure at a time."
"We are very pleased to welcome Brianne Blaszak and Endlessly Outdoors Company to the Wyoming County business community," said Chamber of Commerce CEO Scott Gardner. "This business will be the perfect fit with our growing tourism sector and will provide visitors with first-class outdoor recreational experiences."
"From the moment Brianne shared her idea and we started discussing her plan to open an outfitter in Wyoming County, I was energized by her excitement and passion to connect tourists, visitors and members of the community to the joys of outdoor recreation," said Eric Szucs, Wyoming County Director of Tourism & Marketing. "Now witnessing her vision come to fruition, I'm incredibly proud of what Brianne has accomplished. Her background and insight will enrich and benefit visitors to our amazing local destinations like Letchworth State Park and Silver Lake. Endlessly Outdoors Company will be an incredible asset to our community."
"Access to the right resources and knowledge at the opportune time is often the key to a successful launch and building a world-class company from the startup stage," said James Pierce, Executive Director of the Wyoming County IDA. "It takes the right education, plan, and motivation. The Wyoming County Economic Development Team works closely together to help support entrepreneurs like Brianne as they launch and grow their business, and we wish her much success."
For more information and to connect with Endlessly Outdoors Company, visit the website www.endlesslyoutdoorscompany.com, by email at endlesslyoutdoorscompany@gmail.com, on social media using @endlesslyoutdoorscompany, by phone at (585) 969-4441 or at the business located at 8 Covington Street in Perry, NY.
Endlessly Outdoors Company's location is part of the Perry Downtown Revitalization Project, the first Adaptive Reuse project by the Wyoming County IDA that assists developers with redeveloping a blighted site or structure, promoting development using existing infrastructure, and creating new economic activity at troubled sites or structures to assist in eliminating neighborhood blight.
The Wyoming County Chamber & Tourism is the leading membership organization for local and regional growth, advocacy, and connection for Wyoming County's business community. The Chamber & Tourism's mission is to serve the members and community; promote and grow the area's economic and tourism assets; and work collaboratively to create an environment that leads to the success and economic prosperity of Wyoming County. For more information or to become a member please call 585-786-0307 or visit the website at www.wycochamber.org
The FastTrac Program helps entrepreneurs transform their innovative business ideas into viable career options, and moves their ventures to reality or new levels of growth. FastTrac helps entrepreneurs overcome barriers and challenges common in starting a business.
The Wyoming County Economic Development Team offers educational programs, financial assistance, incentives and resources, and more for new and existing businesses to optimize greater financial success and long-term sustainability. If you are an entrepreneur with an innovative business idea or an existing business looking to grow and expand, visit wycoida.org or call (585) 786-3764.
# # #