Apr 12, 2019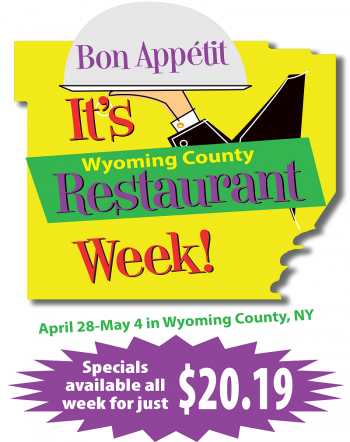 (Warsaw, NY) If you're looking for great food and warm hospitality close to home, then Wyoming County Restaurant week is for you. The Wyoming County Chamber and Tourism has again partnered with the Warsaw Country Courier; Arcade Herald, and WCJW Radio to host the fourth annual restaurant week in Wyoming County. The event runs from April 28 thru May 4, 2019 at restaurants from every corner of Wyoming County.
Participating restaurants will offer a unique dish throughout "restaurant week" at the special price of $20.19, gratuity and tax not included. Each restaurant will create its own unique menu, which could include anything from a single entrée to a multi-course meal.
Wyoming County Restaurant Week is a countywide event featuring the cuisine of Wyoming County's top dining establishments and local favorites. Participating restaurants in this year's event include the Arcade Village Cafe, in Arcade; Chanderson's Steak and Seafood in Yorkshire; The Glen Iris Inn in Castile; Grateful Grille in Silver Springs; Hidden Valley Animal Adventure in Varysburg; Morluski's in Attica; Nellie's Restaurant in Arcade; Smokey's Bar and Grill in Java Center; The Hole in the Wall in Perry; The Lumber Yard Restaurant in Perry and Turkey Run Golf Course in Arcade.
"We're very excited to partner again on this countywide dining event and thank the restaurants for their participation. This is always a great way for our restaurants to showcase all of the great menu items that they have available," said Scott Gardner, Chamber President. "We have some of the best restaurants in Western New York right here in our backyard, and this is a great way to celebrate all that they have to offer and encourage diners to try something new. Thanks to all the event partners and everyone who works to makes this event a success."
More information, weekly specials, and the full list of participating restaurants can be found by visiting the website www.wyomingcountyrestaurantweek.com or by calling the Wyoming County Chamber at (585) 786-0307. For a detailed listing of all restaurants specials, watch for the Menu Guide published in the Arcade Herald and Warsaw's Country Courier on April 25. You can also visit the restaurant week website at www.wyomingcountyrestaurantweek.com or on Facebook
# # #