Aug 30, 2007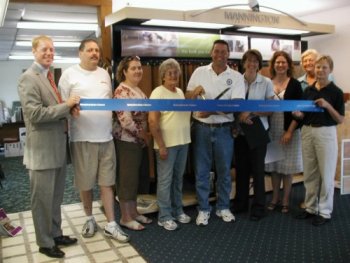 Ken's Carpet Center Offers Quality Flooring and Installation
After 30 years in the carpet business working for others, Ken Johnston opened up his own store, Ken's Carpet Center at 85 S. Main St. in Warsaw. The store officially opened for business in early August and so far business has been great. According to Ken's wife Jody, "People have been great and we've been busy." Wyoming County Chamber of Commerce officials were on hand to help welcome the store to the business community with an official Ribbon Cutting ceremony.
Ken began his career in the carpet business 30 years ago as an apartment superintendent at RIT. He then became the chief engineer for Holiday Inn for 14 years; seven of which were spent in Jamaica at the Holiday Inn Sun Spree Resort in Montego Bay. Then, five years ago the Letchworth Central grad and native to the area decided to move back home. He had been working at his uncle's store, Ackerman's Floor Covering, when he finally decided to go out on his own and open Ken's Carpet Center in the former Howard's Floor Covering Store.
Ken, his wife Jody and Ken's mother Delores run the business. And, while there are no immediate plans to hire additional employees, they would of course like to grow the business in the future. Ken's opens at 9:00am Monday-Saturday and is closed on Sundays. They offer all types of flooring products including tile, laminate, hardwoods, vinyl, linoleum and carpet. Ken also personally installs all of the flooring that he sells with the help of his stepfather and sons. This personal approach and providing the highest quality is the basis of his business. "When customers are spending money, they want - they expect - the job to be finished properly," stated Ken.
"It is clear by the facade and clean look of the store that the Johnston take great pride in its appearance and I sure the same holds true for the products and services they offer," stated James Pierce, Chamber Executive Director.