Aug 9, 2007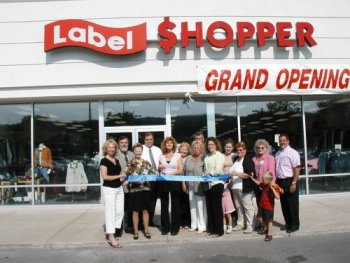 Label Shopper, a retail clothing store featuring off price name brands has opened in the Tops Plaza on Rt. 19 in Warsaw and Wyoming County Chamber of Commerce officials were on hand to help welcome the store to Wyoming County.
Label Shopper officially opened for business on Sunday, August 5th and according to District Manager Gerri Eams "business has been great. We are very pleased with the response." Customers will enjoy shopping for name brand clothes in missy, junior and plus sizes as well as men's, shoes, and home goods. Store hours are Mon-Fri, 10am- 9pm, Sat. 10am-6pm and Sun. 12-5pm.
Company officials indicated that as they were looking to expand into smaller markets with limited shopping opportunities, Warsaw fit the bill. "We are very happy to come to Warsaw," stated Eams. "The community has made us feel very welcomed."
"We are extremely excited to welcome Label Shopper to Warsaw and hope company officials will also look elsewhere in Wyoming County to establish new stores," stated Chamber Executive Director James Pierce.