Nov 14, 2007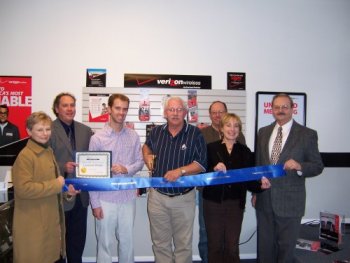 Another storefront on Main St. in Perry has been filled with Perry's only Verizon cell phone store and Wyoming County Chamber officials were on hand to celebrate with a ribbon cutting ceremony.
Letchworth Wireless, located at 21 South Main St. in Perry, is the only Verizon store in town. Owner and longtime Perry resident Marc Pachuta open the Main St. location in mid-August and business has already been excellent. When asked about the decision to locate on Main Street, Marc responded, "We wanted the store to be in a location with the potential for foot traffic, plenty of parking, and high visibility. We were also excited to be part of the revitalization of downtown Perry."
Letchworth Wireless offers all of the Verizon products including cell phones, accessories, BlueTooths, music kits and more. Everything in the store is computerized and cell phone plans and contracts can be processed directly at the store. Currently open 11:00am - 6:00pm Mon - Fri and 9:00am - 1:00pm on Saturdays. Marc announced that the store will be offering expanded holiday hours beginning November 12 with evening hours as well as all day on Saturdays and Sundays.
"As always, the Wyoming County Chamber is excited to see a new main street business and we're sure Letchworth Wireless will make a great addition to the business climate of Main St. Perry," stated James Pierce, Chamber Executive Director.