Sep 14, 2017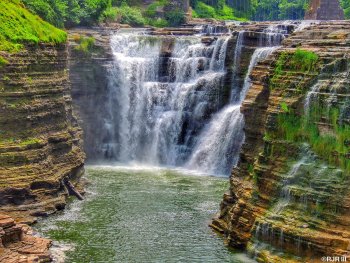 (WARSAW, NY) –Letchworth State Park is up against 20 of New York's top attractions in the 2017 round of USA Today 10 Best Readers' Choice Award for "your favorite attraction" in New York State. The Wyoming County Chamber & Tourism office is encouraging everyone to vote for our own Letchworth State Park, one of the top nominees again this year. The world-renowned attraction is up against some very stiff competition among New York's most well-known tourist attractions.
USA Today Readers' Choice 10 Best website reports that some of the United States' most recognizable attractions – Times Square, the Statue of Liberty, Central Park, the Empire State Building – are found in New York City. While the Big Apple has no shortage of travel-worthy attractions, the rest of the state is well worth exploration as well. Outside the iconic metropolis in the Empire State, travelers find natural wonders like Niagara Falls, the Thousand Islands, Letchworth State Park, award-winning wineries, Revolutionary War sites and the elegant estates of the Hudson Valley.
"We are up against some very tough competition in New York this time around," said Chamber & Tourism President Scott Gardner. "If everyone that loves Letchworth State Park votes in the contest we can once again win the competition and claim the title of "favorite attraction" recognizing this well-known destination right here in Wyoming County."
Voting for Letchworth State Park is easy! Simply visit the Chamber & Tourism Facebook page at www.facebook.com/wyomingcountytourism to find the link or visit USA Readers' Choice Today's contest website at www.10best.com/awards/travel/best-new-york-attraction/, then scroll down the page and select Letchworth State Park. You can vote once per day until the contest ends on Tuesday, October 10 at noon ET.
"We encourage everyone to share the contest to their social media accounts and to get the message out about the contest," said Chamber & Tourism Director of Tourism and Marketing Eric Szucs. "Letchworth State Park won the #1 State Park designation because of it natural beauty and strong following worldwide. Let's try to again capture the momentum and win again for this great natural asset."
The Wyoming County Chamber of Commerce & Tourism Promotion Agency is the leading membership organization for local and regional growth, advocacy, and connection for Wyoming County's business community. The Chamber & Tourism's mission is to serve the members and community; promote and grow the area's economic and tourism assets; and work collaboratively to create an environment that leads to the success and economic prosperity of Wyoming County. For more information or to become a member please call 585-786-0307 or visit the website at www.wycochamber.org or www.gowyomingcountyny.com
# # #