Nov 27, 2007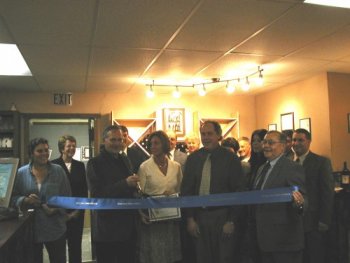 Wolfe's Wines & Brew House was first opened in June of 2004 at 235 Main Street in Arcade NY. They grew rapidly in the first year causing them to look for a larger location. Not moving far, owners Dave and Toni Wolfe purchased a building just two doors down at their current 249 Main St. Arcade location.
In November of 2007 they opened a new addition to the store, Running Wolfe Winery - Wyoming County's first winery. Most of the year the store and winery are open Tuesday - Friday from 1 - 6 PM and Saturdays from 10 AM - 2 PM. However, during the busy wine and holiday season (October - December) they have extended Saturday hours from 10 AM - 4 PM and added Sunday from Noon - 3 PM. Dave and Toni encourage people to stop in for a tasting or to pick up a few bottles to take home.
Wolfe's also carries a full-line of wine & beer making supplies, wine & beer making equipment, bulk wine juice, concentrate wine juice and beer kits for the home wine & beer maker. Whether you are an experienced wine or beer maker or new to the fast growing hobby of wine & beer making, Wolfe's has everything you need and more. In addition to wine and beer making supplies, they also have a large selection of wine racks and lots of wine and beer related items along with soda pop and liquor kits. They also carry scented candles, Pasta Peddler's gourmet pasta, pasta sauces by Consilvio's, canned goods by Deb's Delights, dip mixes by Herbal Delight's, Watkins Products and eucalyptus oil for fast pain relief and other home remedies.
"We are very excited to be the first winery in the area and Wyoming County," stated David Wolfe. "The wine industry is growing rapidly and we are hoping our winery will be the foundation of a new area wine trail. As many of you may know a wine trail is not just a seasonal attraction, as it would bring tourist to the area all year long." Wolfe continued, "We are looking forward to meeting many new customers. Stop in and pick up your wine for the holiday's."
"I want to congratulate Dave and Toni who worked very hard and for a long time to secure their designation and approval as a winery," said James Pierce Executive Director of the Wyoming County Chamber. "Their business located on Main Street in Arcade has been a welcome asset to the business community and has established itself as a place that draws much needed business to the downtown district. The addition of the winery to the business should enhance commerce even more."