Jul 13, 2017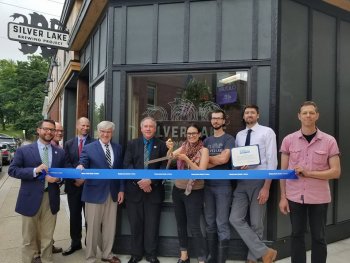 The Wyoming County Chamber and Tourism and the Wyoming County IDA joined together to host a ribbon cutting ceremony at the Silver Lake Brewing Project, 14 Borden Avenue, Perry, NY on Thursday, July 13, 2017.

Silver Lake Brewing Project started as a conversation over beer in 2012. Three founders, Pilar McKay, Ryan Fitzsimmons, and Tony Jones, came together to start a microbrewery in Perry, New York to celebrate beer in a rural community. As Perry was growing into a center of arts, culture, and business, the founders recognized that there was demand for a craft brewery. Silver Lake Brewing Project started to become a reality once they acquired their building at 14 Borden Avenue to build a production brewery and public taproom.
The brewery and taproom opened in March 2017. SLBP specializes in Belgian-style and classic American craft beer. The taproom sells pints, flights, growlers, crowlers, snacks, and merchandise. The brewery is located in downtown Perry on the way to the Perry Entrance to Letchworth State Park.