Aug 31, 2007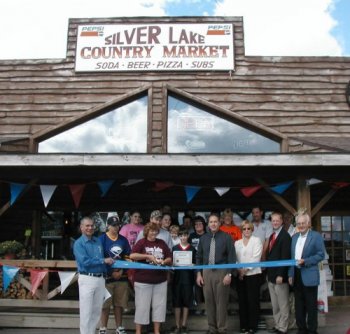 New Owners of the Silver Lake Country Market have Local Connection
Lori Adams and her family have vacationed at Silver Lake for the past 20 years. In fact, her husbands family has been at the lake for over 100 years. His grandparents, Lee Wheaton and Lynne Grace Hill met at the Roller Rink in 1928. So the Adams' have very close ties to the Perry community. This close tie certainly came into play when deciding to purchase the Silver Lake Country Market on July 9th. They then wasted no time, opening up for business that Friday, July 13th.
Lori is an Associate Broker for Century 21 Realty in Clarence. Why the move then to opening her own convenience store? "The pieces just all seemed to come together at the right time to take on this venture," stated Ms. Adams. "And so far it's been great. Business is well and the community has welcomed us and in very supportive."
The Silver Lake Country Market is open Sun-Thurs. 6am - 8pm and stays open until 9:00pm on Friday and Saturday. In addition to its grocery line, the convenience store also offers fresh pizza, subs, breakfast sandwiches, fountain drinks, cappuccino, and coffee just to name a few. There is also seating available both inside and outside for added convenience. According to Lori, "We are committed to supporting local businesses as well. Our bread and baked goods come from the Stohltzfus', fresh fudge from Ron Mason, firewood from Zanghi's, fresh local produce from a farm just down the way on Rt. 39, and T-shirts from Paragon Silk Screening."
Lori and her five employees have worked hard to make the Silver Lake Country Market a great place for everyone to shop. They've decreased their smoking advertisements and increased their candy line, adding to the kid friendly environment of the store.
"At the Chamber, we never like to see a perfectly functional building unoccupied so we were delighted when Lori contacted our office to say she had purchased the Market. She's in a great location and we're happy the community has come out to support the Silver Lake Country Market," stated James Pierce, Wyoming County Chamber Executive Director.