Jul 29, 2007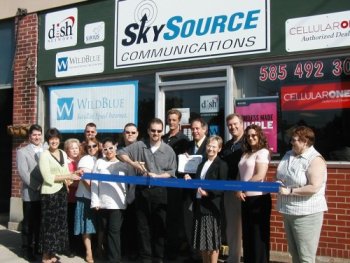 Wyoming County Chamber of Commerce officials celebrated the opening of SkySource Communications, Arcade's newest provider of Satellite TV, Internet and cell phones.
Owners Rob Ziegler and Don Hulse always wanted to be in business for themselves and approximately 3 months ago opened SkySource Communications. Since opening, the business has grown rapidly, confirming Rob's notion that there was a need for his business in Arcade. The company currently employs 7 and already has the need to recruit more salespeople.
Rob stated, "We want to be a full service company in a local setting - the kind of company you can call and rely on."
Jim Pierce, Executive Director of the Wyoming County Chamber said, "Rob stopped by our Chamber office in Perry toward the end of winter to share some ideas with us about a new business venture and to learn what assistance might be available to help him get started. We shared with him some information about sites and resources that he should consider. The next thing we know is he is open for business and off to a roaring start."
SkySource Communications is located at 235 Main St. in Arcade and is open M-W 2:00pm - 6:00pm, Thurs. and Fri. 10:00am - 7:00pm and on Sat. 10:00am - 4:00pm. Call 877-492-3092 for more information.