Jun 25, 2018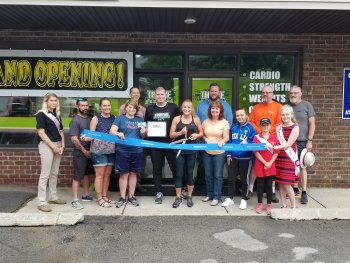 The Wyoming County Chamber and Tourism was pleased to host a ribbon cutting ceremony at on Saturday, June 23 to celebrate the grand opening of Thrive Fitness 24/7, with new business owner Heather Biondolillo, family friends and officals. The business is located at 36 North Main Street, Perry, NY. The business will be open all day from 9:00AM until 4:00PM, the public and media are welcome and encouraged to attend the ribbon cutting and open house.
"We are very pleased to welcome Heather Biondolillo and Thrive Fitness 24/7 to downtown Perry, and Wyoming County," said chamber president Scott Gardner. "Heather has a great story, and we wish her much success as she grows her new business and welcomes people to find their best physical self in a friendly environment and convenient location."
New business owner, Heather Biondolillo, has lived in Perry for nearly 25 years. Most people may recognize her as the girl who "runs all around town," and she says that she started long before running was cool. Heather ran through highs and lows, times of victory, and times of loss. In 2012, after the family tragedy of her brother's suicide, she felt that her legs would no longer carry her to run. She quickly put on weight and struggled with anxiety and depression.
Knowing that something needed to change, Heather put aside her fears and walked into a gym to take her first class. She was hooked, as she could spend an hour pushing, sweating and forgetting her grief. It wasn't long before she found her personal footing again. Heather also believed that no one knew what she was going through, and she started to wonder about other people's personal stories and life challenges. This is when Heather decided that she wanted to help other people find the same freedom that she had found in fitness and physical empowerment.
She pursued her personal training certification through World Instructor Training Schools (W.I.T.S.). Then became certified in Silver Sneakers, Zumba, Refit, and STRONG with a focus on group exercise. Heather has worked at several area gyms as an exercise instructor and personal trainer and held many sessions at local village parks.
"I value my relationship with my clients. I have the privilege of seeing them grow stronger not only physically, but mentally and emotionally as well," says Thrive Fitness owner Heather Biondolillo. "I am continuously inspired by their stories."
Heather's dream was to bring an uplifting fitness environment to Perry and make an impact on the community. Thrive Fitness 24/7 is a 24 hour fitness facility with cardio and strength equipment, classes, personal training, and special team events, including the Muddy Princess coming in July.
Thrive Fitness 24/7 offers new, high quality equipment with unique pieces including an Alpine Runner; Jacob's Ladder; and a recumbent elliptical. The gym has three televisions with 48 channels and high speed Wi-Fi for customers to access.
Membership information and summer class schedule can be found online at www.thrive247.org. Interested customers may also call 969-4420.