Mar 10, 2020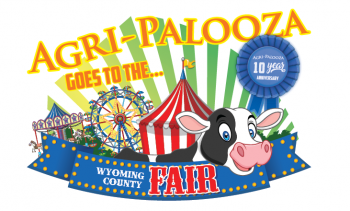 This year marks the 10th anniversary of Wyoming County Agri-Palooza, the award-winning free event that will take place on Sunday, June 14, 2020, from Noon until 4:00 PM. This year, Agri-Palooza will be held at the Wyoming County Fairgrounds in Pike, NY. The location was announced and a new logo was unveiled at the annual Pride of Agriculture event held on Saturday, March 7.
Agri-Palooza highlights agriculture in Wyoming County and welcomes the public to spend the day learning about Wyoming's #1 industry. Agri-Palooza is a free educational event that invites the public to learn more about their agricultural neighbors and farming in Wyoming County. Visitors will get a chance to view educational displays; tour through farm displays and machinery; and enjoy children's games and activities. Visitors will also get a chance to tour the Wyoming County Fair's newly constructed Agricultural Exposition Center.
"In addition to our regular partners, we are very pleased this year to be partnering with the Arts Council, and the Fair Association as host, to bring this event to the community," said Chamber President and CEO Scott Gardner. "2020 marks a milestone for Agri-Palooza, and we are very pleased to take the event to the fair to show off all the work taking place at the fairgrounds as a preview for a great fair season later in the summer."
Agri-businesses and related organizations will also be on-hand to show their work and the importance of agriculture to our local economy. Local vendors will be available at the on-site Farmers' Market with hand made goods and local products for purchase. For more information and regular updates follow Agri-Palooza on Facebook at facebook.com/agripalooza
The Arts Council for Wyoming County in partnership with the Wyoming County Fair Association will also present a concert with Castile native and award-winning singer, Ddendyl Hoyt headlining. The concert begins at 3:00 pm in the new Volunteer Arena located in the Agricultural Exposition Center at the fairgrounds. Concert tickets are available by contacting the Arts Council at 585-237-3517 or Artswyco.org. Ddendyl Hoyt has shared the stage with artists such as Hunter Hayes, Scotty McCreery, Sebastian Mikael, Elle Varner, and opened alongside colleagues for Justin Moore following her appearances on Season 6 of NBC's "The Voice." Information on the opening bands was not available at the time of this press release.
Agri-Palooza is coordinated by the Wyoming County Chamber & Tourism office, the Wyoming County Farm Bureau, US Farm Service Agency, Wyoming County Farmland Protection Board, and the Wyoming County Soil and Water Conservation District.
The Wyoming County Chamber & Tourism is the leading membership organization for local and regional growth, advocacy, and connection for Wyoming County's business community. The Chamber & Tourism's mission is to serve the members and community; promote and grow the area's economic and tourism assets; and work collaboratively to create an environment that leads to the success and economic prosperity of Wyoming County. For more information or to become a member please call 585-786-0307 or visit the website at www.wycochamber.org
# # #