Nov 14, 2017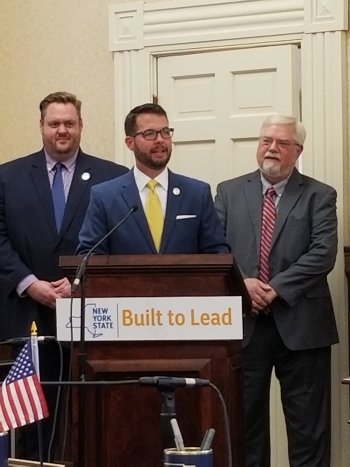 Warsaw (NY)–The Wyoming County Board of Supervisors today passed a proclamation recognizing Saturday, November 25, 2017 as "Small Business Saturday" in Wyoming County. County leaders joined with the Wyoming County Chamber & Tourism office in officially making the declaration of the day dedicated to shopping locally and encouraging Wyoming County residents to make the extra efforts to shop at local businesses on Small Business Saturday, November 25th.
"We are very pleased to pass this formal resolution declaring November 25th as Small Business Saturday. The Board of Supervisors recognizes the importance of small business to the county's economic health and certainly encourages everyone, in all sixteen towns, to stay right here in Wyoming County to support the local economy," said Doug Berwanger, Chairman of the Board of Supervisors. "We recognize the business owners from across our great County who work and sacrifice every day to make their business a success, and thank them for making Wyoming County their home."
"On behalf of the business community, thank you to the Wyoming County Board of Supervisors for the official proclamation and for recognizing the vital importance of our small businesses right here in Wyoming County," said Chamber President Scott Gardner. "This support and recognition underscores the importance of Small Business Saturday and will help to energize and remind residents to shop local first at businesses in the county who are invested here and provided valuable goods and services all year long."
This year the Wyoming County Chamber has partnered with the Greater Warsaw Chamber to host a "Shopping and Shortstacks" pancake breakfast as a way to celebrate and kickoff Small Business Saturday. The event is open to everyone and will be on Saturday, November 25th from 8:00AM to 11:00AM at the Warsaw Masonic Temple, 75 South Main Street in Warsaw. The cost is $5.00 per person, age 5 and under eat free. The "all you can eat" breakfast will offer homemade pancakes, sausage, locally sourced, real maple syrup and dairy products. There will also be displays of local businesses from around the county and free items for guests to take in celebration of Shop Small Saturday.
The Annual celebration, originally started in 2010 by American Express, highlights America's small businesses located on main streets and in neighborhoods in every community. Recognizing that small businesses are the backbone of the nation's economy, this event seeks to encourage shoppers to spend time exploring all that their local community has to offer. Small businesses are grass-roots job creators, and are a critical component of our local economy. They include everything from local family farms, maple producers, gift shops, hair salons, local pharmacies, and a host of other businesses that make up the economic fabric of Wyoming County's business sector. Businesses from across the county have the option to open extra hours and have special events for their customers.
American Express created the Neighborhood Champions program to help rally communities around Small Business Saturday and is working alongside numerous business organizations to support local Small Business Saturday celebrations throughout the country.
The Wyoming County Chamber & Tourism is the leading membership organization for local and regional growth, advocacy, and connection for Wyoming County's business community. The Chamber & Tourism's mission is to serve the members and community; promote and grow the area's economic and tourism assets; and work collaboratively to create an environment that leads to the success and economic prosperity of Wyoming County. For more information or to become a member please call (585) 786-0307 or visit the website at www.wycochamber.org.