Dec 18, 2019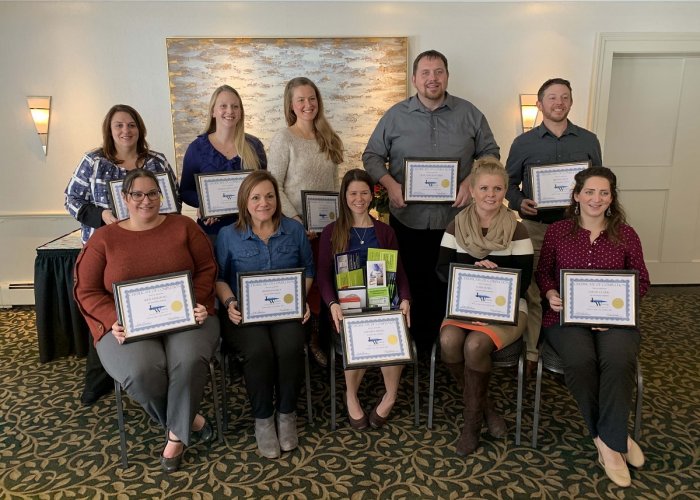 (WARSAW, NY) -- On December 18, 2019, the Wyoming County Chamber of Commerce hosted the graduation luncheon ceremony for the 12th class of the Leadership Wyoming program at the Byrncliff Golf Resort and Banquets in Varysburg.

Following remarks by class spokesperson Julie Marshall, presenting observations by the graduates based on the positive experiences and leadership qualities learned during the year, graduation certificates were presented in a brief ceremony by Chamber Board Chairman Norb Fuest and staff. Since its inception in 2006, 190 individuals have graduated from the Leadership Wyoming Program.

"Everyone has the potential for leadership development and this program continues to provide a great opportunity for individuals to learn through a variety of experiences," said Scott Gardner, President of the Chamber. "For twelve years, the Chamber has promoted the importance of growing citizens who are community-minded and equips them to take on new leadership challenges in their personal and professional lives. The benefit to the county is tremendous, as these individuals set out to take on fulfilling projects and beneficial new ways to serve our community."

The participants' journey began in March with a two-day retreat where each person was put through a Meyers-Brigg profile; talked about the strengths and challenges of Wyoming County, and began to learn about themselves and their personality styles. This leadership component continues throughout the year as the class participates in discussions and group activities. The program also included exploring small businesses; touring local manufacturers; learning from the County's economic development team; an up-close and personal tour of one of Wyoming County's most famous locations, Attica Correctional Facility; checking out the unique technologies found on local farms, and taking time to be tourists by exploring all of Wyoming County's tourism destinations. The class also attended a monthly committee meeting of the Wyoming County Board of Supervisors. Classes were given the opportunity to speak to various town supervisors during county government and criminal justice day and witnessed the county's legislative body in action.

"We are very proud of the very diverse individuals that have taken part in the Leadership program over the years and this class is no exception. It is always exciting to listen in on their conversations and participate with them throughout the process. They have gone on a yearlong journey of personal and professional discovery, and we look forward to seeing how they use their new skills," said Kelly Ashcraft, Program Coordinator and Chamber Director of Member Services.

The class participants, who graduated from the ten-month program represent diverse personal and employment backgrounds. They are Mary Gibson from Java Farm Supply; Amanda Myers from Partners for Prevention; Kari Sears, Community Action for Wyoming County; Brian Eddy from Byrncliff Golf Resorts and Banquets; Melissa Wolcott from Morton Salt; Sarah Carlson from Cornell Cooperative Extension of Wyoming County; Kim Harloff and Julie Marshall from Pioneer Credit Recovery/Navient; Brenda Kelly from Tackbary's Trophies; and Jesse James Guldenschuh from the East Hill Inn.

For the first time, this year's class was tasked with a new challenge. As a group, they were to come up with a countywide community service project to complete together within the ten-month program. After a great deal brainstorming and a few challenges, the group finally decided on a project that would outlast their time together as the Leadership Wyoming Class of 2019. They worked together and after researching a variety of issues chose to tackle the Opioid epidemic in Wyoming County, creating a localized "Dispose Rx" box. The boxes contain DisposeRx packets, information on Narcan Training and Detox Services, Wyoming County crisis line information, and the location of prescription drop boxes. The boxes are still available if there are organizations that would like one, and are filled and maintained by Partners for Prevention in Warsaw. Contact Amanda Myers at Partners for Prevention for a disposal box or more information at 585-786-8970.

About DisposeRx, Inc.: DisposeRx, Inc., is dedicated to eradicating the misuse of leftover medication in order to decrease the risk of drug diversion, accidental poisonings, overdoses, and death. The DisposeRx packet was designed to provide a simple, efficient and eco-friendly solution targeted for use at the site of the problem – the home medicine cabinet, as patients can use the product with pills, tablets, capsules, liquids, and powders. When activated with water in the prescription vial containing leftover drugs, the proprietary powder forms a thick gel, making the medication unusable and allowing for the safe disposal in the household trash. For more information, please visit DisposeRx.com.

Applications are being accepted for the 2020 Leadership Wyoming Class now through February 14, 2020. Interested businesses or individuals should call the Chamber office at (585) 786-0307 or email kelly@wycochamber.org to request more information. Applications are also available on-line at www.WyCoChamber.org

The Wyoming County Chamber & Tourism is the leading membership organization for local and regional growth, advocacy, and connection for Wyoming County's business community. The Chamber & Tourism's mission is to serve the members and community; promote and grow the area's economic and tourism assets; and work collaboratively to create an environment that leads to the success and economic prosperity of Wyoming County. The key programs and services of the organization are educational seminars; leadership development; business assistance and guidance; cost-saving opportunities; advocacy; recognition, networking, exposure, and promotional opportunities.
For more information or to become a member please call (585) 786-0307 or visit the website at www.wycochamber.org.
# # #