Dec 17, 2019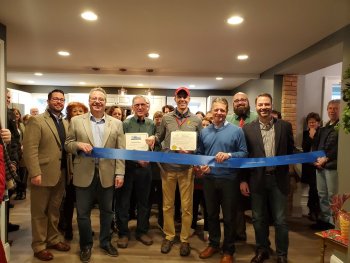 The Wyoming County Chamber of Commerce hosted a ribbon-cutting on Saturday, December 14 for the newly opened Gateway Home, at 91 Main Street, Attica. Local elected representatives joined with Gateway Home Board members, volunteers, supporters, and staff at the ribbon-cutting event.
Gateway Home's mission is to give comfort care to individuals in the last stages of their lives (a prognosis of 3 months or less to live). The staff and volunteers are committed to provide personalized care attending to the physical, emotional, spiritual and social needs of its residents and their families while supporting a dignified quality of life in a caring home-like environment. They are a community supported comfort care residence.
Gateway Home does not charge for its services, nor does it receive insurance or government reimbursement (Medicare/Medicaid). They are supported by the community through volunteerism. Operational capital for the home is derived entirely from donations, bequests, grants, memorials, and fundraising. For more information please visit www.gatewayhomeattica.org.