Nov 16, 2020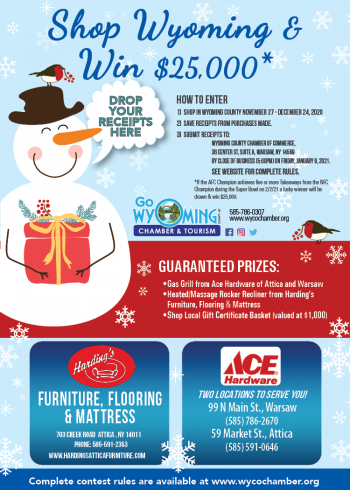 Annual event designed to boost the economy more important this year
(Warsaw, NY) – Now more than ever, we need to find ways to help our struggling small businesses, and the annual Shop Wyoming and Win event is one way that our local community can make that happen. At the same time, shopping in Wyoming County this holiday season can pay off for a few lucky shoppers!
If the 2020 AFC team has five or more takeaways from the 2020 NFC team during the Super Bowl, one lucky individual will be drawn to win a cash prize of $25,000. Even if that doesn't happen, there is still an opportunity to win one of three great guaranteed prizes including a gas grill donated by Ace Hardware of Attica & Warsaw; a massaging/heated rocker recliner donated by Harding's Furniture, Flooring and Mattress; and new this year, a 'Shop Local' gift card basket valued at $1,000.
"This has been the Chamber's most successful shop local promotion, now celebrating 10 years, and we are pleased it's grown each and every year," said Chamber President Scott Gardner. "This year brings new challenges to our local economy that our small business community never before experienced. Now more than ever, we are encouraging shoppers to 'shop local to save local' right here at home. Our Wyoming County businesses are the backbone of our local economy and this shopping season is more important than ever to help them survive and thrive together."
Participation is easy, simply save all your receipts from purchases made anywhere in Wyoming County between "Black Friday," November 27, 2020 and Christmas Eve, December 24, 2020. Every $50 a shopper spends cumulatively in Wyoming County creates one eligible entry in the $25,000 conditional drawing, as well as the drawing for the guaranteed prizes.
Shoppers must submit receipts to the Wyoming County Chamber or at drop boxes that will be located at Chamber member businesses throughout the County. All receipts must be received by 5:00 PM on January 8, 2021.
All receipts must be originals and have the shopper's full name, phone number, address, and email clearly written or stamped on the receipt. The drawing will be held on February 9, 2021 at the Wyoming County Government Center. Receipts can be mailed to the Chamber office at 36 Center Street, Suite A, Warsaw, NY 14569.

Now celebrating 10 years, the successful holiday promotion is part of the Wyoming County Chamber of Commerce's Buy Local program that seeks to encourage shoppers to buy their products locally and discover all the great products and services found in Wyoming County. The Chamber's online member directory hosts over 500 businesses where shoppers can find the gifts, goods, and services they may be looking for this holiday season.

For questions or complete contest rules please contact the Chamber at (585) 786-0307 or visit the website at www.wycochamber.org. Consumers can also text the word 'WYCOCHAMBER' to the number 22828, to receive special updates about sales and promotions at local businesses.
The Wyoming County Chamber & Tourism is the leading membership organization for local and regional growth, advocacy, and connection for Wyoming County's business community. The Chamber & Tourism's mission is to serve the members and community; promote and grow the area's economic and tourism assets; and work collaboratively to create an environment that leads to the success and economic prosperity of Wyoming County. The key programs and services of the organization are educational seminars; leadership development; business assistance and guidance; cost-saving opportunities; advocacy; recognition, networking, exposure and promotional opportunities.
For more information or to become a member please call 585-786-0307 or visit the website at www.wycochamber.org.
# # #