Sep 25, 2017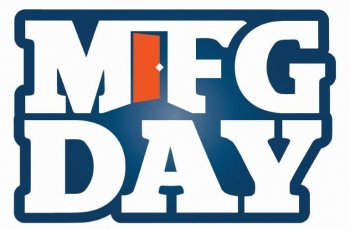 As October approaches, it is a time to recognize and highlight the contributions that manufacturing is making every day to the economy of Wyoming County. This year, on October 5, 2017, we will celebrate manufacturing day which is a nationwide grassroots movement dedicated to overcoming the shared challenges facing manufacturers today.
Wyoming County is commonly known as a leader in the agricultural industry, but it is not well known that manufacturing is one of the county's top business sectors. The county is home to approximately 50 unique manufacturers making products that range from automatic girth welders used on oil storage tanks around the world, products used in the automotive industry, to baked goods found on Jet Blue airplanes.
In fact, manufacturing has experienced unprecedented growth in Wyoming in metals-based manufacturing jobs since 2010. This increase is due to our workforce, low energy and operational costs, and easy access to 50% of North America's population. According to DataUSA manufacturing jobs represent nearly 15% of the workforce in Wyoming County. Our manufacturers employ over 1,500 workers, 40% above the national average, and those workers on average earn $56,516 per year.
However, one of the most pressing issues facing manufacturers today is finding skilled labor: 600,000 manufacturing jobs are currently unfilled in the United States due to a gap between the job requirements and the skills of those who are applying for them.
Manufacturers' ability to address this gap has been hindered by the public perception that careers in manufacturing are undesirable and by insufficient preparatory education. Both of these problems stem from a lack of understanding of present-day manufacturing environments, which are highly technical. Manufacturing today includes highly trained, well-paid employees who work on state-of-the-art equipment, although the perception persists that they are commonly thought of as antiquated factories designed for low-skilled workers. This change in public perception is the first step in addressing one of the main challenges faced by manufacturers today-a gap in skilled labor.
"We are very pleased and fortunate to have a solid manufacturing base right here in the county," said Wyoming County Chamber of Commerce & Tourism President and CEO, Scott Gardner. "We recognize the economic contributions these companies are making every day, and their commitment to the workforce of Wyoming County. We also recognize that these companies also need a skilled labor force and environment that is friendly to business."
One of the main reasons motivating Manufacturing Day is to introduce students to the potential of manufacturing careers. The event is a chance to spark student interest in manufacturing that could lead to further studies, a new generation of skilled workers, and an eventual closing of the skills gap. Giving students early exposure to manufacturing careers is critically important to ensuring a long-term talent pipeline. Over 64% of students in career and technical education (CTE) programs say that their own interests and personal experiences are the greatest influencing their on their future career decisions.
According to Allison Armour-Garb from the Public Policy Institute of New York State, "Across the state, New York employers responding to a recent Public Policy Institute survey reported difficulty filling STEM positions, and they project that these workforce shortages will persist over the coming decade."
New York's employers do not expect the skills gap to go away anytime soon. When asked whether they anticipated new or continuing skills shortages over the next five to ten years, survey respondents identified several areas for concern. Skilled production is the category in which they anticipate the most severe ongoing shortage. Bruce Hamm, Director of Business Engagement at the Manufacturers Association of Central New York, points out that this is consistent with national data. "The average age of a skilled worker in manufacturing nationally is 56 years old," he says. Taking into account both retirements and expansion in the manufacturing sector, a 2015 study projects a shortage of 2 million workers between 2015 and 2025.
Employers responding to the Public Policy Institute survey also predict severe shortages in engineering and information technology occupations. They anticipate a more moderate shortage in mathematics occupations. Perhaps unsurprisingly, these are the same top four workforce categories in which employers reported the highest difficulty filling jobs currently. Employers are more optimistic about such occupations as social science and architecture.
The survey the hardest jobs to fill are skilled production vacancies, according to this study. One quarter of survey respondents reported moderate or high difficulty filling positions in this category, and 12% reported high difficulty. Engineering is a close second, with 20% of respondents reporting moderate or high difficulty filling positions. Fourteen percent of respondents reported moderate or high difficulty filling information technology positions, and 10% reported moderate or high difficulty filling positions in mathematics occupations.
In all of these STEM categories, respondents were almost equally split between "high" and "moderate" difficulty. At least a handful of employers noted difficulty filling positions in each of the other listed STEM categories—environmental science, social science, architecture, and health—and several wrote in additional categories in which they were having trouble filling jobs, including telecommunications, machine operators, and technicians.
STEM positions comprise four of the top five categories of positions that New York employers are finding most difficult to fill. Seventeen percent of employers reported moderate or high difficulty filling non-STEM positions, with the bulk of those saying that they had "moderate" difficulty filling non-STEM positions.
To bring more awareness to the issue this year, in cooperation with the Wyoming County IDA and Business Education Council, the Wyoming County Chamber is inviting area 9th and 10th graders to visit three local manufacturing businesses, Morton Salt, Advanced Rubber Products, and the Marquart Company.
"We are excited to show our students the exciting opportunities that a career in manufacturing can provide them as they are making their future career choices," said Wyoming County Business Education Council Executive Director, Linda Leblond. "We want to keep our talented youth right here in Wyoming County. Each business is unique in the types of jobs and manufacturing processes that take place and will offer students an up-close look at potential job opportunities."
"It's a constant pleasure to visit and work with many of our manufacturers and it's always a treat for me to see first-hand the products that are made here and witness the pride the workforce takes in their work and the satisfaction they realize knowing their quality products are being sold throughout the world," said Wyoming County Industrial Development Agency Executive Director, James Pierce. "The general public drives by these businesses everyday but does not have a notion of what amazing things are going on behind the walls. That is why manufacturing day was created, to raise the awareness and importance of manufacturing."
To learn more about Manufacturing Day, visit www.mfgday.com. For additional information on Manufacturing in Wyoming County, please call the Wyoming County Chamber at 585-786-0307 or the Wyoming County IDA at 585-786-3764.
# # #