Jul 26, 2017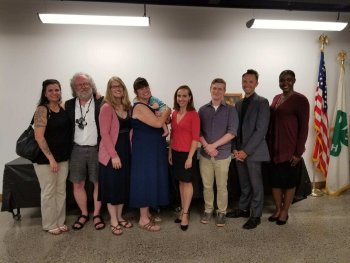 Wyoming County Rural Arts Initiative Celebration Highlights Innovative Partnership between Economic Development and the Arts
Finger Lakes Regional Economic Development Council Project Helps Artists Build Their Businesses in Rural Communities throughout the County
$200,000 Community Development Block Grant Award Moves Wyoming County Rural Arts Initiative Forward

Warsaw, New York – The Wyoming County Rural Arts Initiative (WCRAI) and New York State Homes and Community Renewal (HCR) celebrated a pop-up exhibit on Thursday, July 20 featuring ten local art-related businesses selected by Wyoming County to benefit from $200,000 in Community Development Block Grant (CDBG) Microenterprise program awards through New York State Homes and Community Renewal.
As part of the 2015 Consolidated Funding Application, Wyoming County was awarded the funds to assist the Wyoming County Rural Arts Initiative. The CDBG program is a federally funded program administered by HCR that helps eligible cities, towns, and villages with populations under 50,000 and counties with an area population under 200,000 to develop viable communities, provide decent, affordable housing, and expand economic opportunities.
After two years of planning, the inaugural class of WCRAI artists are building their businesses in Wyoming County through the Finger Lakes Economic Development Council. The project complements the region's Finger Lakes Forward economic development initiative, which is driving revitalization efforts throughout the region.
"In Wyoming County, we see arts and culture as both quality of life and a core driver for our overall economic wellbeing," Jim Pierce, Executive Director of Wyoming County Industrial Development Agency said, "The WCRAI shows how artists can help many sectors work together to grow communities and increase business opportunities."
Homes and Community Renewal Commissioner RuthAnne Visnauskas said, "Under the leadership of Governor Cuomo, New York State's CDBG program is making investments in the private sector to boost small businesses and revitalize downtown development. Wyoming County's innovative approach will simultaneously boost the economy while building a more culturally vibrant community. We are proud to cultivate local artistic talent and we are looking forward to seeing these businesses contribute to Wyoming County's arts community."
The county focused the WCRAI on downtown business. Ten art-related businesses were chosen to receive funding for the purchase of equipment and supplies in the Villages of Arcade and Perry. The WCRAI Artists are:
• Dee Crouse, Visual Artist and Painter (Arcade, NY)
• Bob Doyle, Photography (Perry, NY)
• Esther Frank-Doyle, Visual Artist (Perry, NY)
• Arthur Hackett, Visual Artist and Tattoo Artist (Arcade, NY)
• Sarah Keeler Badger, Dancer and Instructor (Perry, NY)
• Erin Nesmith, Fashion Designer and Painter (Perry, NY)
• Josh Rice, Theatre Artist (Perry, NY)
• Rachel Richter, Graphic Designer and Visual Artist (Perry, NY)
• Paul Thomas, Ceramics and Pottery (Perry, NY)
• Shannon Wojciechowski, Graphic Designer and Tattoo Artist (Arcade, NY)
About New York State Homes and Community Renewal:
NYS Homes and Community Renewal's (HCR) housing and community development agencies work to create, preserve and improve affordable homes and vibrant communities, in keeping with Governor Andrew M. Cuomo's vision of a more inclusive, affordable, sustainable, and resilient New York. In 2016, HCR set a record for the third year in a row, financing the creation or preservation of more than 17,000 affordable homes and apartments, creating nearly 2,000 homeownership opportunities for first-time homebuyers, and was once again the #1 affordable housing bond issuer in the nation with $2.8 billion issued. For more information on HCR agencies, programs and initiatives, please visit: http://www.nyshcr.org/
Accelerating Finger Lakes Forward
Today's announcement complements "Finger Lakes Forward," the region's comprehensive blueprint to generate robust economic growth and community development. The State has already invested more than $3.4 billion in the region since 2012 to lay the groundwork for the plan – investing in key industries including photonics, agriculture and food production, and advanced manufacturing. Today, unemployment is down to the lowest levels since before the Great Recession; personal and corporate income taxes are down; and businesses are choosing places like Rochester, Batavia and Canandaigua as a destination to grow and invest in.
Now, the region is accelerating Finger Lakes Forward with a $500 million State investment through the Upstate Revitalization Initiative, announced by Governor Cuomo in December 2015. The State's $500 million investment will incentivize private business to invest well over $2.5 billion – and the region's plan, as submitted, projects up to 8,200 new jobs.
###
FOR IMMEDIATE RELEASE
Contact: Pilar McKay
mckay@artswyco.org (310) 498-6220
pressoffice@nyshcr.org