Aug 7, 2017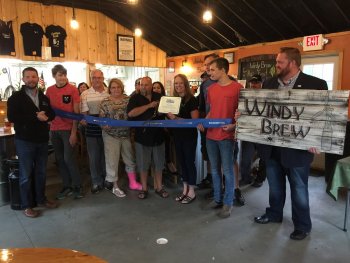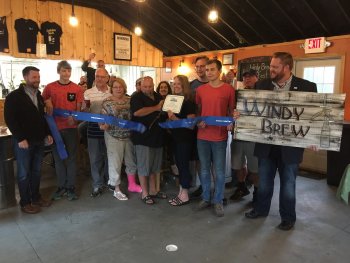 On Saturday, August 5, 2017, the Wyoming County Chamber and Tourism office was pleased to welcome the county's latest craft brewing business with an official ribbon cutting ceremony with business owners Bill and Michelle Snyder at Windy Brew, LLC located 733 Route 20A, Strykersville, NY.
Family, friends, and customers showed up on an uncharacteristically cool and windy August day to congratulate the business and enjoy some refreshments. Bill and Michelle Snyder welcomed everyone and thanked the group for the tremendous support they have already received.
"On behalf of the Chamber and Tourism office we offer are sincere congratulations to Bill and Michelle and Windy Brew," said Wyoming County Chamber president Scott Gardner. "We are excited to add one more food and beverage attraction to our outstanding group of craft breweries in Wyoming County. Windy Brew is unique in that it has an educational component as well, it's certainly an added bonus and offers something for those who are interested in learning the techniques of small batch brewing."
The Tap Room offers beers from a light ale, seasonal brews, to IPA's. Windy Brew offers flights, by the glass, and growlers to go. If you are looking for a 1/2 and 1/6 keg they offer them for sale with request and deposit. Regular taproom hours are Thursday 4-9PM; Friday 2 – 9PM; Saturday noon – 9PM; and Sunday noon – 5 PM.
They also celebrated the opening of the Windy Brew Custom Brew Center, Western New York's only custom "make your own beer" center. With brewer Bill Snyder, customers get the total experience of learning about the brewing process without having to buy the equipment, ingredients, bottles and kegs. Various brewing session options are available. More information and how to make a reservation can be found at the website www.windybrew.com or by calling 585-805-4006.
The Wyoming County Chamber & Tourism is the leading membership organization for local and regional growth, advocacy, and connection for Wyoming County's business community. The Chamber & Tourism's mission is to serve the members and community; promote and grow the area's economic and tourism assets; and work collaboratively to create an environment that leads to the success and economic prosperity of Wyoming County. For more information, or to become a member of the Chamber of Commerce, please call 585-786-0307 or visit the website at wycochamber.org or gowyomingcountyny.com.
-30-