Feb 14, 2008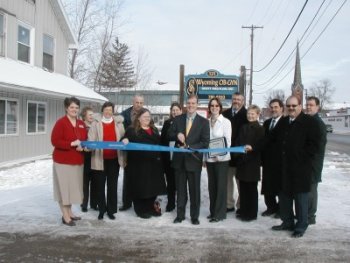 Wyoming County Chamber of Commerce officials were on hand to help celebrate and welcome Wyoming Ob-Gyn to its new location at 121 South Main St. in Warsaw. Formally located at 408 N. Main St. Dr. Scott Treutlein and his staff officially made the move to 121 South Main on February 4, 2008. Dr. Treutlein sees the move as a great opportunity for him to branch his practice out further.
Owned and operated by Dr. Treutlein, Wyoming Ob-Gyn provides Obstetric and Gynecology services to women in Warsaw. Dr. Treutlein graduated from St. George's University in Grenada and completed his residency at the State University of New York at Buffalo. A native of Long Island, his family and practice moved to Warsaw, New York in 2004.
The field of Obstetrics and Gynecology was a natural choice for Dr. Treutlein as he enjoys surgery; the continual care & visits with his patients and having the privilege to share in the joyous and special event of birth.
Dr. Treutlein is currently accepting new patients and operates office hours on Tuesday's from Noon - 7:00pm, Wednesday's from 9:00am - 4:30pm and Friday's from 9:00am - 4:30pm. Please feel free to contact the office for more information at 786-8350.